PLA Launches Guide For River Users
---
New safety guide for tidal Thames rowers, kayakers, canoeists and paddle boarders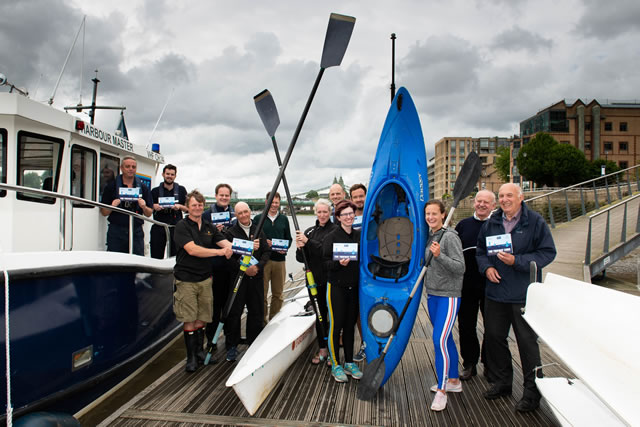 The Port of London Authority (PLA) launched a new one-stop shop safety guide for tidal Thames rowers, kayakers, canoeists and stand-up paddle boarders at Fulham Reach Boat Club on Friday (7 June).

Combining two previously separate sets of guidelines for recreational users of the river, The Tideway Code - a Code of Practice for Rowing and Paddling on the Tidal Thames is full of practical tips and technical guidance on how to stay safe out on the water.

It has been produced with the support of the Thames Regional Rowing Council (TRRC), British Canoeing (BC) and water sports clubs and organisations from along the 95-mile course of the tidal river, from Teddington to the North Sea.

Darren Knight, the PLA harbour master responsible for recreation, said: "The popularity of the river for sport and recreation - both professional and amateur - continues to grow, making it even more important that all activity is carefully managed.

"The river is a great place to compete, have fun and relax, but it's our job to make sure people do so safely. There are three fundamental principles: Keep a proper look out, follow the rules and always show consideration for others."

The Tideway Code advice ranges from the importance of pre-planning on shore to gauging the impact of the wind and tides. It also details the equipment and clothing recommended whilst afloat, how to navigate bends and bridges and the regulations governing night-time activity on the river.

In 2018. a record 363 sporting events were held on the river, up from 157 in 2017. As part of its 2035 Thames Vision, the PLA is seeking to widen the range of people enjoying the river for sport and recreation.





The Tideway Code is available from the PLA's dedicated recreational website www.boatingonthethames.co.uk as a download for computers, smart phones and tablets, or as an interactive PDF. Chart and pocket size versions are also available online. Hard copies can be requested via safetymanagement@PLA.co.uk or 01474 562269.


June 12, 2019