Groups combining love of exercise and hate of litter clear local rubbish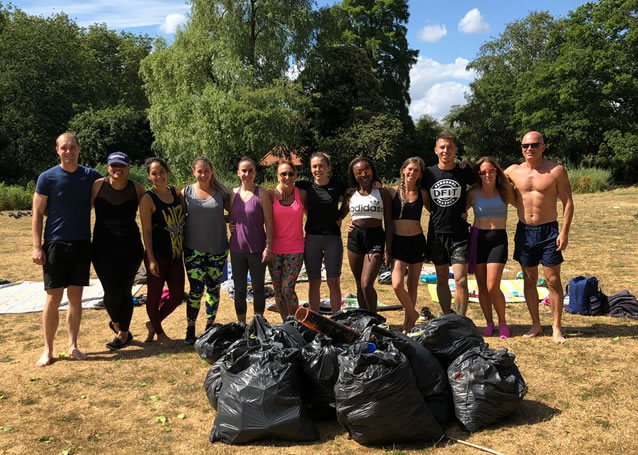 Just some of the rubbish collected on the inaugural run from Putney to Hammersmith bridges
A south west London-based group is doing its bit to reduce the millions of tonnes of plastic entering our oceans each year with free monthly 'plogs' offering both a 5k run and a 2k walk to cater for all fitness levels. Plogging originated in Sweden and blends running or walking with picking up rubbish along the way.

The group's first event was at the end of July, when sixteen 'ploggers' cleaned up 25 bags of rubbish on the stretch of the river between Putney to Hammersmith bridges and back again.

The next event is on 16th September at Battersea Park - you can register to attend at bit.ly/batterseaplog They hope to get around 45 people involved and those attending will get a free t-shirt to wear whilst they plog.
Rubbish near Hammersmith Bridge

The group is the brain child of Putney born and bred Dermot Kavanagh who worked in retail management for the early part of his adult life and realised it wasn't for him. He then got a job working in refuse which gave him some spare time to decide what path to take. He joined the Army Reserve as a reconnaissance solider and developed a real passion for fitness which inspired him to become a personal trainer.
From a young age he had always had a passion for conservation and earlier this year volunteered with a charity called Veterans for Wildlife and was deployed to the Kruger National Park in South Africa to man a radar system that picks up poachers in the area.




Dermot said, "I'm passionate about doing my bit to save the environment. These regular plogs allow me to bring together my love for exercise and a way to help stop plastic and rubbish entering our oceans. Do your bit to help your local community and raise your endorphin levels at the same time!"

With the help of Michelle Parkes the first plog was organised and since then local ploggers collected 35 bags of rubbish at a Kingston based plog.

Michelle told this website, "We have exciting plans for the future including more parks and river runs as well as an Ultra Plog next year starting at the source of the Thames. We have also had interest from people in Malta and Finland who want to set up similar groups. You can follow us on Twitter @plogolution and on Instagram @plogolution. Our vision is to build communities globally that are dedicated to getting up and moving, building friendships and creating an environment we can be proud to pass down to future generations."

See what happens at a plog:

August 30, 2018