Free Respite Break Spaces Available
---
Calling for older people in the borough to apply for a trip to Eastbourne

NBFA Assisting the Elderly opens its application round from 28th July for eligible older people across Wandsworth to apply for a respite break free place.

Applications can be made directly by individuals and referrals can be made by local services and charities who work face to face with older people in their communities. Eligible applicants are 65 years and over, living on a low income (£197 and under per week) and have not had the opportunity for a holiday in recent years. Applicants must be reasonably mobile and able to travel by coach and walk short distances unaided. They are looking to fill a maximum of one hundred free spaces on this excursion.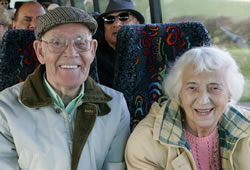 The respite break will take place from Monday 27th October to Friday 31st October at the Mansion Lions Hotel in Eastbourne. Successful applicants will be collected by coach from pick-up points in the centres of Lewisham, Croydon, Wandsworth, Bedford, Luton and Milton Keynes. Guests are offered a five day break with all accommodation, coach travel, food and entertainment provided free of charge as costs are covered by the charity. Social and recreational activities and outings will be provided and a team of staff and volunteers from Assisting the Elderly will be on hand to provide guidance and support throughout the respite break duration.

Sophie Hutchings, Programme Officer said:
"The purpose of this programme is to enable older people to build social skills and networks, gain confidence and develop opportunities to make positive changes in their own lives."

Applications and further information can be found at www.nbfa.org.uk or by telephone 020 7828 0200. Postal enquiries can be made to NBFA Assisting the Elderly, 32 Buckingham Palace Road London SW1W 0RE. The deadline for applications is 15th September 2014.

July 4, 2014