Re-Use Your Household Goods
---
Donated items will be diverted from landfill and incineration and re-used

Residents in Putney & Wandsworth are among nearly one million Londoners being targeted by a campaign aimed at taking unwanted household items, refurbishing them and giving them a new home. The London Re-use Network (LRN) will target five boroughs - Lambeth, Kensington & Chelsea, Hammersmith & Fulham, Wandsworth, and the City of London - with information aimed at boosting the amount of furniture and white goods donated for re-use, diverting good quality material away from landfill or incineration.

LRN uses high quality refurbished items to pass on to low income, recently housed families at low cost so that they can turn their new flat or house into a cosy, comfortable home. Re-use also helps the Network provide volunteering and training opportunities in retail, administration, and waste management, helping people gain the skills they need to get back into the job market. It extends the life of an item, dramatically reducing CO2 emissions, while minimising the need to use up more raw materials. And it means donors can be sure that none of their items will be fly-tipped causing environmental damage and eyesores for others to clean up.

The campaign, supported by £55,000 from the capital's waste chiefs at the London Waste and Recycling Board (LWARB) - channelled through WRAP, the national waste minimisation body - will feature leaflets, posters, online and social media marketing, as well as liveried vehicles and articles in borough magazines for residents.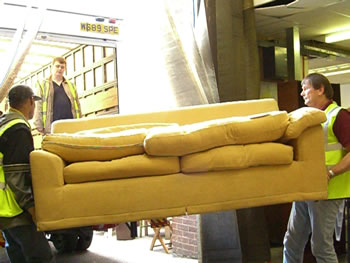 Callers to a special hotline number - 020 3142 8506 - can arrange collection of unwanted household items from inside their own homes to prevent them getting damaged by the weather. Items which can be collected include beds, sofas, tables and chairs, washing machines, cookers, fridges, and bicycles. You can also drop items off at local charity-run re-use shops by checking www.londonreuse.org to find the nearest one in their local area. And you can book a collection online on LRN's sister website www.londonreuse.com.



LRN Managing Director, Charles Craft, says:
"We want residents in Putney & Wandsworth to really get involved in the re-use revolution through this campaign. They won't only be doing something good for the environment in diverting good quality items away from landfill and incineration, but they'll be doing others a good turn too because the items they donate will provide volunteering and training opportunities in our charity partners' shops and our re-use centres. They'll also know that they'll be helping people less well off than they are make their surroundings more homely and comfortable.

"We've made it as easy as possible for them to donate through our telephone hotline, online, or by dropping items off at re-use shops run by our charity partners. There's no downside for them and there are huge benefits for them as well as others in their community."

July 4, 2014