Looking For A Place In London Marathon 2018?
---
Join the RHN team and receive expert advice and support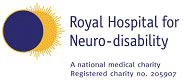 Run the iconic London Marathon next year, whilst supporting the Royal Hospital for Neuro-disability. Join the team and receive a number of benefits – expert training and fundraising advice, a training run and pasta lunch at the hospital, your own RHN running vest and more.
If you managed to get a place in the ballot, you can still join the RHN team!
If you're interested in joining the RHN team please contact the events team today on events@rhn.org.uk | 020 8780 4560


December 14, 2017