Proceeds will help fund sustainable conservation initiatives with the working Shire horses in The Royal Parks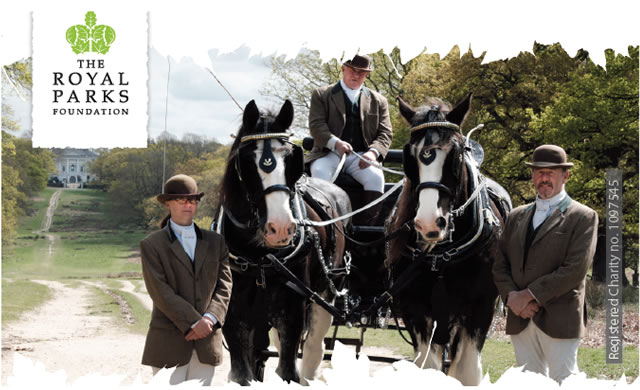 This Summer, the Royal Parks has teamed up with Operation Centaur to bring you a six-person Park Brake drawn by the parks majestic Shire Horses, allowing you to experience Richmond Park like never before.

The 90-minute experience begins at Holly Lodge, Richmond Park, where you'll be met with summer refreshments. You will take your place in the carriage embarking on a 60 minute ride through the park in all its summer beauty! You'll also be treated to a unique behind-the-scenes visit of the working stables.

The purchase of one £125 ticket admits two people on the ride.
The cost for exclusive use of the whole carriage is £375 - please purchase three pairs of tickets if you wish to have the whole carriage to yourselves.
Proceeds will help fund sustainable conservation initiatives with the working Shire horses in The Royal Parks.

Book your place now from the selection of dates:
Thursday 8 to Saturday 10 June
Thursday 15 to Saturday 17 June
Thursday 22 to Saturday 24 June
Thursday 29 to Saturday 1 July
Visitor feedback:
"The carriage ride was a remarkable and memorable experience, both intimate as well as grand. The carriage, horses and all the staff were totally fantastic. And we loved returning to the yard after and being able to help a little with the horses and the carriage. We all left the park feeling very happy and calm. It was my mother's 88th birthday and she tells me that her carriage ride was her best present ever. What you are doing is wonderful; the stuff of dreams."

"Magical! The team were very welcoming and made the whole experience wonderful. Please pass on my thanks to all involved. Looking forward to doing it again next year! Many thanks."

"We had a fantastic time on the carriage ride. The ride itself was simply wonderful – a magical experience never to be forgotten. And the people that took us out fabulous. We can't recommend it enough to people and the great work that you guys do."


June 2, 2017