Coxed eight capsized in the Thames near Barnes Bridge
Chiswick RNLI lifeboat was called to an incident near Barnes Bridge at 3.15pm on Thursday (6 November) after a group of rowers from Latymer Upper School, capsized in the River Thames.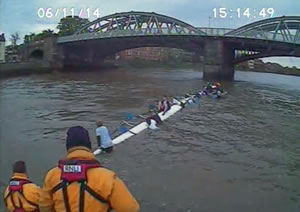 Picture: RNLI
On arrival they found 9 young rowers aged 13-14 years clinging to the upturned hull of their coxed rowing eight.
All were swiftly hauled out of the icy water into the lifeboat where the crew gave them blankets to prevent further heat loss.
The boys were swiftly returned to their boat house on Hammersmith Mall and advised to get into warm showers.
RNLI Helmsman Mark Finnis commented: 'We were able to respond very quickly to this incident so the rowers were in the water for a very short space of time before they were recovered and did not require any medical attention.'
Having completed the service at 3:35pm Chiswick RNLI lifeboat crew then returned to the lifeboat station at Cornmey Reach Way.
Phil McGee, head of boats at Latymer Upper School, said: 'I'd really like to thank you and your team for the immediate assistance you provided to our crew and coaches yesterday on the water, as well as the support afterwards back at the club. It is hugely appreciated and not taken lightly.'
Chiswick RNLI lifeboat is the second busiest in the UK and Republic of Ireland; since starting service in 2002, the crews have attended over 2,400 incidents and rescued over 1,200 people.
November 8, 2014