Beware of tides and cold water shock in the Thames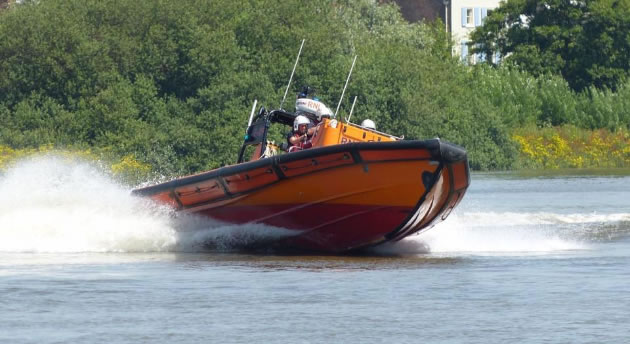 Advice is being issued by the RNLI as a result of the recent spell of hot weather
RNLI lifeboat stations on the Thames with its strong tidal currents and dangerous obstructions, are urging people not to use the water to cool off in hot weather.
As the warm weather continues, risks like cold water shock can put even strong swimmers in danger. Last weekend saw a number of people lose their lives as they enjoyed the warm weather around the coast and at inland waterways. In total, RNLI lifeboat crew volunteers were called out to 149 incidents in one of the hottest weekends so far this year. RNLI beach lifeguards were also busy during the hot weather, patrolling 243 beaches around the UK.
The charity, which relies on public donations, is encouraging anyone visiting the coast to head to a lifeguarded beach and to swim between the red and yellow flags, which is the area most closely monitored by the lifeguards.
Around 150 people die in UK and Irish waters each year, and over half never even planned to enter the water. Sudden immersion in cold water – especially at this time of year when air temperatures are warm but water temperatures are still very cold – can result in cold water shock, which can be fatal.
Ross Macleod, RNLI Community Safety Manager said, 'Cold water shock is a very real and present risk for people trying to cool off in open water at the moment, and relevant both around the coast and for inland lakes, reservoirs and rivers. Cold water shock is a reaction that, when entering cold water suddenly, can cause someone to uncontrollably gasp and breathe in water, this is particularly dangerous at the moment because water temperatures are still very cold at around 12c, despite air temperatures being much warmer.
'If you plan to go into the water, enter slowly to let your body acclimatise rather than jumping straight in as this will reduce the severity of your cold shock response. If you are taking part in water sports, wearing a wetsuit will also help and, no matter what you are doing, always carry a means of calling for help.
'If you find yourself in trouble in cold water, your natural reaction can be to panic and thrash around, which increases the chances of breathing in water and drowning. The best thing to do in this situation is to float on your back and wait for the effects of cold water shock to pass, keeping your airway clear until you can control your breathing. You can then plan your next move to reach safety.
'If you see someone in difficulty, don't enter the water yourself as you could end up in trouble. Dial 999 or 112 and ask for the Coastguard.'
The RNLI lifeboats on the Thames are permanently manned so they can launch in 90 seconds and be at an incident well within their 15 minute target.
The Chiswick RNLI lifeboat station is the second busiest in the UK and Ireland. Since RNLI's search and rescue service on the Thames started in 2002, Chiswick Lifeboat has attended 3,200 incidents and rescued over 1,620 people. The RNLI is entirely funded by public donations and relies on volunteers to help their service.
For information on how to stay safe on or near water or find out more about their work, visit Chiswick RNLI's website.
September 26, 2018