Drenched animal had taken refuge with a kayaker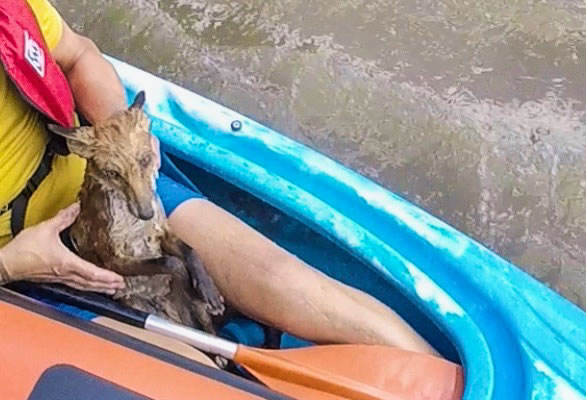 Waterlogged fox in kayak. Picture: RNLI
The Chiswick RNLI Lifeboat crew were assuming a call they received about an animal in the water would be for the usual dog or cat but this week they were in for a surprise.
At 12.27pm on Monday 3 August they were called to an area behind Sainsbury's jetty, downstream from Wandsworth Bridge.
The crew saw a creature sitting on the lap of a kayaker between the jetty and a 20ft high river wall from which a crowd of people were observing what was going on. When they came near they realised the waterlogged animal was a fox.
London Fire Brigade and the RSPCA were already in attendance but could not reach the kayaker safely.
On the rising tide RNLI helmsman James Anthony was able to manoeuvre the lifeboat into the narrow gap behind the jetty. Once alongside the kayak the crew, wearing full PPE and visors, were able to transfer the fox into the lifeboat. The firefighters managed to hand over the RSPCA's cage and once the lifeboat crew had the bedraggled fox safely inside, the cage was handed back.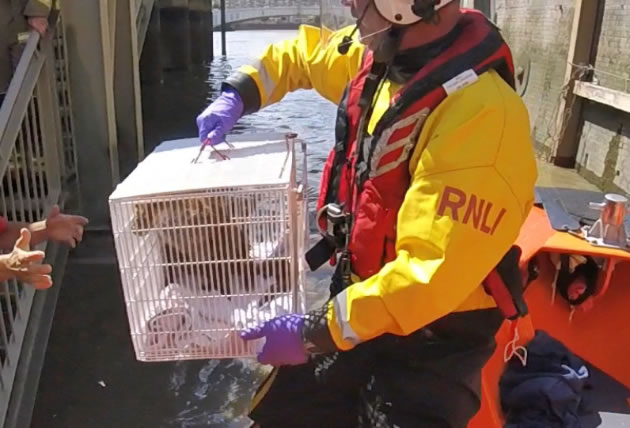 Fox being handed over to the RSPCA. Picture: RNLI
James said, 'We were concerned about how to approach when we saw the 'dog' was actually a fox but it turned out to be the most docile casualty we've had to deal with. Certainly a much easier recovery than the angry cat cut off by the tide a few weeks ago.'
Since the incident the RSPCA have reported the fox is well and has been released into its 'local' area.
James added, 'Our crews at Chiswick RNLI Lifeboat have had to deal with a number of serious casualties in the last few weeks where the images were too sensitive to show. While we don't want to be seen as an animal rescue service, we do rescue animals to ensure that pet owners or bystanders don't put themselves at risk by following them into the river. We are equipped to deal with these incidents quickly and safely when rescue from the water is the only option.'
Chiswick RNLI lifeboat station is the second busiest in the UK and Ireland. Since The RNLI search and rescue service on the Thames started in 2002, Chiswick Lifeboat has attended over 3,700 incidents and rescued over 1,750 people. The RNLI is entirely funded by public donations.
For information on how to stay safe on or near water or find out more about their work, visit Chiswick RNLI's website.
August 5, 2020