When she is installed as Chancellor of University of Roehampton
Professor Dame Jacqueline Wilson is to become the new Chancellor of the University of Roehampton, when she is formally installed at a ceremony this week at 2pm on Wednesday 15th October.
Professor Wilson has had a long association with the University, and teaches masterclasses in children's literature. She was awarded an honorary doctorate in 2007, a year later she was appointed as a professorial fellow and since 2011 she has been one of four pro-chancellors.
She replaces veteran BBC World Affairs Editor John Simpson, who stepped down from the Chancellorship after nine years, following the University's graduation ceremonies in July.
Her appointment is the culmination of a successful year for the University, which has seen its best ever results in the National Student Survey, the highest percentage of first class and 2:1 degrees conferred and success in the Sunday Times University Guide, where rankings showed it was the best new university in London.
More than 300 students, staff and civic dignitaries are expected at the hour-long installation ceremony, which will be held in the University's Digby Stuart College chapel.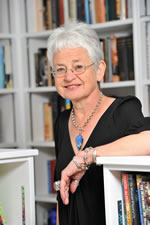 Professor Wilson, a former children's laureate who created characters including Tracy Beaker, Hetty Feather, Vicky Angel and most recently Opal Plumstead, said: "I'm very pleased and proud to be the new Chancellor of the University of Roehampton, it's an extremely interesting time in higher education at the moment and I'm so happy Roehampton is doing so splendidly, creating the highly employable graduates needed in today's economic climate. I shall be happy to oversee their graduation ceremonies which are always very enjoyable days.
"University is a hugely formative time in anyone's life where young people develop into mature adults, learning in-depth and developing their characters and skills. It's an honour to be the figurehead of an excellent modern university like Roehampton which values both academic achievement and personal growth."
Professor Paul O'Prey, Vice-Chancellor of the University of Roehampton, said: "I'm absolutely delighted Dame Jacqueline is to become our Chancellor; she has brought a real sense of enthusiasm to Roehampton, and has helped establish us as one of the leading universities for children's literature. Many of our students will have grown up with her characters Tracy Beaker and Hetty Feather, so I am in no doubt that they will be equally delighted at having a Chancellor who they must feel is a childhood friend."
Dame Jacqueline OBE, DBE, has published 100 children's books, which have sold more than 35 million copies. Her most recent book, Opal Plumstead was published by Random House on 9 October.
The ceremonial role at Roehampton will include promoting the University at home and abroad and through the media, greeting official guests, and officiating at graduation ceremonies.
October 17, 2014