Rotary Award For Chair of Wandsworth Youth Council
---
Alex Godfrey-Strowbridge was recognised for 'Making a Major Contribution to the Community'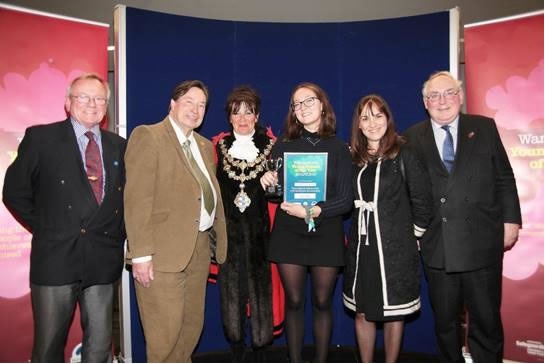 The Rotary Award for Making a Major Contribution to the Community was handed to Alex Godfrey-Strowbridge, the chair of the Wandsworth Youth Council.

She is pictured with the Mayor and Rotarians from the South-West Group of Rotary Clubs which helped to sponsor the evening. President Tony Chase (left), Youth Specialist Chris Wyatt (second from left) and Treasurer Leslie McDonnell (right) represented the Rotary Club of Putney.

Alex, who attend Graveney School has worked to make sure young people have a say in how the borough is run, has represented Wandsworth at British Youth Council Conventions and was part of a delegation to the House of Commons on Mental Health issues.

What is Rotary?
Rotary is a worldwide organization of business and professional leaders that provides humanitarian service, encourages high ethical standards in all vocations, and helps build goodwill and peace in the world. Approximately 1.2 million Rotarians belong to more than 32,000 clubs in more than 200 countries and geographical areas. The Rotary Club of Putney was chartered in 1925.

May 12, 2016