Go Green Go Solar Support Local Communities
---
Volunteer group offers cheap solar panels for Wandsworth and Merton residents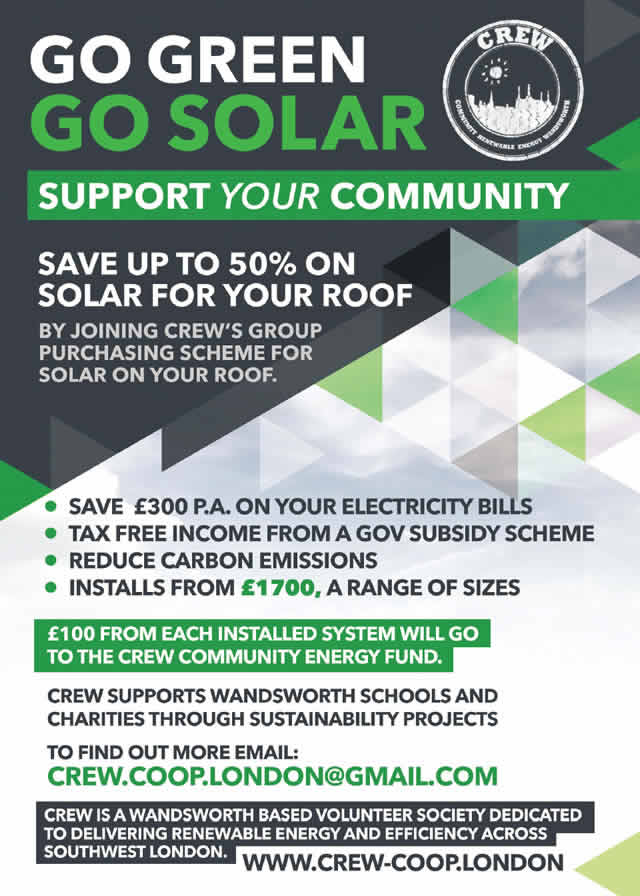 Residents are coming together to buy solar panels in bulk, making savings on the equipment and installation costs.
Community Renewable Energy Wandsworth (CREW), a volunteer group of local residents, has launched a campaign, called CREW Solar, to offer discounted roof-top solar panels in Wandsworth and Merton.

CREW has teamed up with Social Power Partnerships (SPP), a leading UK renewable energy developer, to offer roof-top solar panels to the community at a reduced rate. By pooling together a number of residents in the same area, CREW has driven down both the equipment and installation costs.

By joining this collective purchasing scheme, residents can save as much as 50% on the solar panels installations. A typical solar power system on a house can earn the homeowner £300 in Government subsidies and energy bill savings each year. The panels would pay for themselves in as little as 8 years.

CREW will receive £100 from SPP for every installed system for its community fund. This money will be used to help schools and charities in the area.

Residents have until July 20th to join the scheme. For more information, or to register your interest, go to www.crew-coop.london/crew-solar.html or email CREW directly on crew.coop.london@gmail.com.

June 27, 2017