ACAS confirms services will resume on Thursday and Friday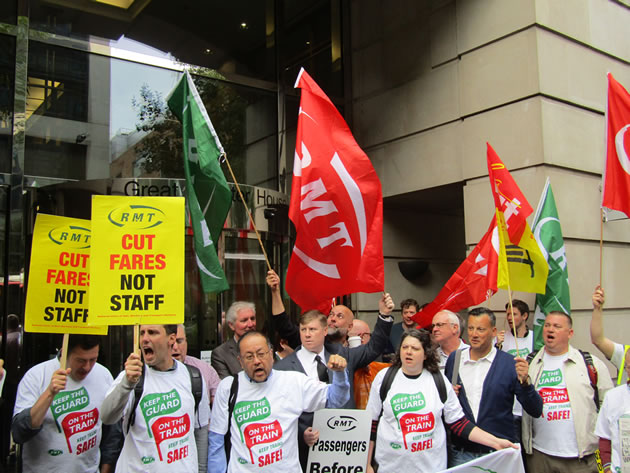 RMT members demonstrate outside the Department of Transport
The strike on the Southern rail network has been called off according to ACAS. New talks about the role of conductors are to take place and the final two days of the scheduled five day strike will now see services operating again.
RMT members began a five-day walk out on Monday but Southern said it was encouraged by the acceptance of its offer of talks.
The RMT had earlier said that it would suspend strike action on Southern rail if the company agreed to new talks without pre-conditions.

Southern had said it will not talk with the RMT unless the union is willing to discuss an eight point plan it rejected at the end of last week.

The RMT announced its five days of industrial action by conducters across Govia Thameslink Railways, which includes the Southern rail network, last month.

Parent company Govia Thameslink wants to introduce trains with driver operated doors using CCTV, but the union fears job losses and has raised safety concerns.
The union is also objecting to the creation of 'Station Hosts' which will operate across the network should ticket offices close. They claim that staff will be forced onto flexible working with an increased workload without the prospect of reasonable compensation.

August 10, 2016