RMT say a 70% vote in favour of strikes a 'strong mandate for further action'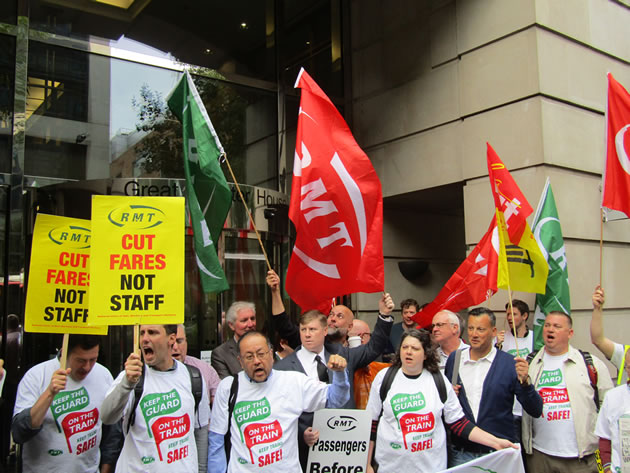 RMT members demonstrate outside the Department of Transport
The cancellation of the last two days of the five day strike on Southern Rail last week looks set to be a temporary reprieve following the breakdown of talks between the train operator Govia Thameslink (GTR) and the union.
The RMT says that proposals it presented at the talks at ACAS were rejected out of hand but GTR passenger services director Angie Doll said that the unions would not agree to a deal that gave them the flexibility needed to continue operating the service at times of disruption. Other train networks in the UK already operate under similar arrangements.
The RMT have held a ballot of members on the network which they say showed that 70% of members were in favour of strike action and 80% approved industrial action short of a strike. The result, which they say is 'a strong mandate for industrial action', will now be considered by the union executive with the general expectation being that more strikes will be announced.
RMT assistant general secretary Steve Hedley said, "The Govia Thamelink franchise is in meltdown and not fit for purpose. Not content with axing catering services, closing ticket offices and attacking the role of their guards they now want to threaten 130 station jobs and compromise the safety of both their passengers and staff alike.

"These plans fly in the face of the response from the thousands of passengers who objected to the closure of ticket offices and the de-staffing of stations as Govia drives on with plans for a 'faceless railway' where the public are left to fend for themselves on rammed-out, dangerous and unreliable services.."
'On-board supervisors' are due to be introduced onto the trains instead of conductors later this month with drivers becoming responsible for the operation of the doors. The union say that a second person needs to be on the train at all times for safety reasons.
Ms Doll said: "We have guaranteed to have a second person on as many trains as today, but the union is rigidly refusing our offer to agree a list of exceptional circumstances when we would be able to run our trains without a second staff member on board, such as during disruption."

August 17, 2016