Students enjoy a splashing legacy at Lee Valley White Water Centre
Students from Southfields Academy in Wandsworth enjoyed the thrill of white water rafting for free at Lee Valley White Water Centre this week (Wednesday 8 July) at the London 2012 venue's annual Schools Festival – 10 years since the capital won the bid to host the Games.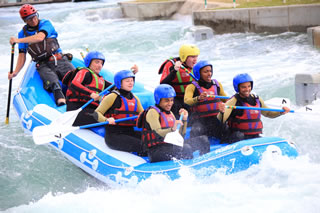 More than 500 students from schools representing every borough and district in London, Essex and Hertfordshire took on the same rapids where GB won gold and silver in the canoe slalom event almost three years ago.
2015 ICF Canoe Slalom World Championships medal hopefuls Mallory Franklin, Adam Burgess, Mark Proctor and Etienne Stott joined the students just two months before they compete at the event that the centre is hosting in September.
Derrick Ashley, Chairman of Lee Valley Regional Park Authority said:
"Since 2011, when the centre opened, the annual Schools Festivals at Lee Valley White Water Centre have given thousands of young people the chance to try white water rafting for free and we're proud to provide these opportunities.
"Ten years on from the announcement of London's successful bid and three years after hosting the London 2012 Canoe Slalom event Lee Valley White Water is a shining example of a successful sporting legacy.Anyone can try exciting activities such as white water rafting here and there are also regular coaching sessions as well as a thriving paddle sports club based at the centre for anyone looking to participate in a range of water sports."
The Schools Festival was hosted by Lee Valley Regional Park Authority in partnership with the venue operators Lee Valley Leisure Trust.
Anyone can try rafting at Lee Valley White Water Centre from just £35. Other extreme white water activities on offer at the centre include kayaking, canoeing, hydrospeeding which is similar to bodyboarding and hot dog sessions which take place on two person inflatables and provide a heart pumping introduction to kayaking on the rapids.
The centre boasts a top of the range terrace barbeque and bar which are within splashing distance of the Olympic Course with views over the white water rapids as well as the beautiful 1,000 acre River Lee Country Park.

July 11, 2015