Southfields Grid Alliance Formed
---
Organisations bond to help elderly lonely and those in self-isolation


Three local organisations in the heart of Southfields have formed the "Southfields Grid Alliance" to help the elderly, lonely and those in self-isolation with any urgent assistance during the current emergency. Requests to their helpline have included prescriptions to be delivered, shopping to be done, dogs to be walked, and one-off requests such as sourcing hearing aid batteries and help getting the electricity turned back on.

Realising a service just like this was needed during lockdown, the Southfields Grid Residents Association (SGRA), St Barnabas church and a local "Grid Mummies" Facebook group joined forces, managing to distribute a leaflet to 3,000 Grid homes just before lockdown came. It gave details of help offered, and a 24/7 number to ring.

The coordinator of this helpline has been Grid resident and primary school teacher Rebecca Bailey. She has managed the system every day since lockdown, ensuring that the dozen or so daily requests are distributed to a network of around 50 volunteers.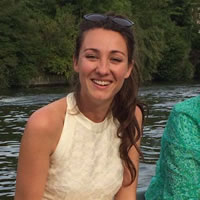 Rebecca Bailey

"Our Grid Alliance details are now being given out by all our local pharmacies and several doctors surgeries to those self-isolating and needing assistance" explained Rebecca. "Alongside our details being given out by the Wandsworth community hub, this has increased our reach and the number of people we have been able to help. Our amazing Alliance partners St Barnabas have provided and delivered free food parcels to those in need, made up of donations delivered to the church from our kind and generous locals. We have also been working with the excellent Dons Local Action Group who support Merton and Wandsworth amongst others providing ongoing food parcel support to those who request it".

The volunteers, who operate via a WhatsApp group, are all locals who are known and trusted by the three organisations. That according to Rebecca has been a huge benefit to residents. "Our volunteers have and continue to be incredible, accepting 'jobs' with gusto. They even happily continued to deliver over the Easter weekend."

Any serious-sounding calls are forwarded onto local council's specialists, though most issues manage to get sorted out quickly and effectively at a local level by the Alliance. Local councillors were consulted from the outset, and Putney MP Fleur Anderson is enthusiastic about the Alliance's work. "Fantastic! Well done for rising to this huge challenge to make sure anyone in the Grid won't have to worry".




Special pages are published on the SGRA's website www.southfieldsgrid.org.uk These area are being updated daily, and have been read by up to 800 people each day. They give lots of information on what local shops are open, delivery services being offered and places to contact for anyone with emotional or mental health worries.

April 15, 2020