Inviting the community to help it celebrate with free BBQ, Hospital Tours and Games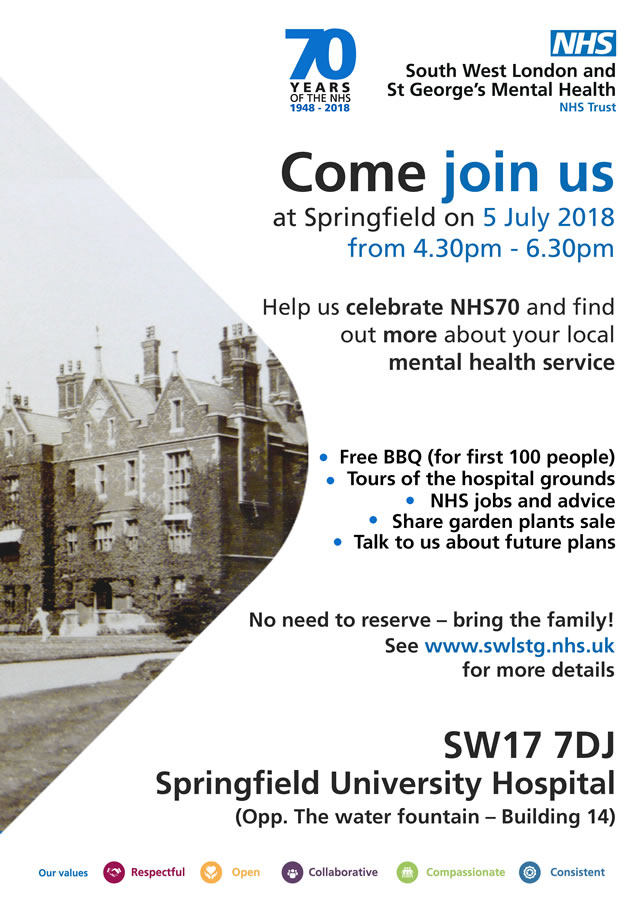 This year, the NHS celebrates its 70th birthday on Thursday 5 July 2018. Between 4.30 – 6.30pm, the team are inviting the local community to come and celebrate with them at Springfield University Hospital. There is no need to reserve – so please bring the family!
There will be:
• Free BBQ (for up to 100 people)
• Information stalls so you can find out more about our services,
• Sports day games for children (and adults!)
• Recruitment stand – with 100's of local jobs
• Tours of the hospital site.
Local community groups will also be hosting their stalls, including Share Garden, a charity that provides training and employment support for disabled adults, who will be selling plants and garden produce.
Chief Executive David Bradley said: "The NHS's 70th birthday is an ideal moment to reflect on seven decades of clinical progress and improvements in patient care. South West London and St George's Mental Health NHS Trust has seen huge changes in the way mental health services are delivered including pioneering the Recovery College model, greater use of technology and working closer in the communities we serve.
"We are also keen the local community can get more involved in the work of the hospital and we will have a recruitment stand advertising hundreds of local NHS jobs, with professionals on hand to answer any questions. This is a really good opportunity for the community to come together and celebrate with our extraordinary staff and recognise the hard work they do to care for our patients and ensure the smooth running of our services."

You can find out more information here
The 70th birthday of the NHS provides us with the opportunity to remind you of all the ways in which you can support your local health care services – from joining the team as a member of staff or volunteering for the Trust, to fundraising for their charity.
Click on the links below to find out more:
• Join the team
• Volunteer for the Trust
• Become a member of the Trust
• Fundraise for SWLSTG
Throughout the day, they will be celebrating with events and celebrations for staff, patients and carers too, including their Big7T ward parties.
June 20, 2018