Not Stars In Your Eyes But Stars In Your Path
---
Councillor campaigns for glow in the dark path for Wandsworth Park
Local Thamesfield Councillor Rosemary Torrington has launched a campaign to get a glow-in-the-dark path similar to the photo below along the riverside walk in Wandsworth Park.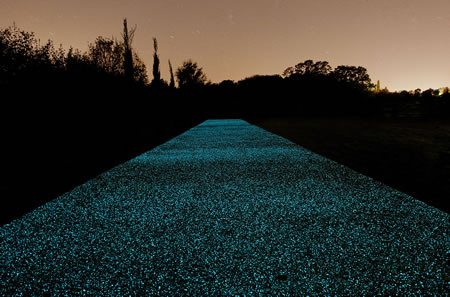 The special Pro-Teq Starpath is made of bioluminescent material that soaks up UV sunlight rays during the day and then emits light at night, getting brighter the darker it becomes.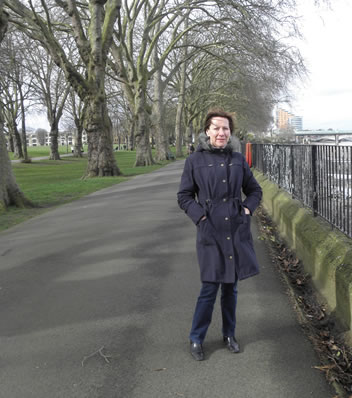 Councillor Torrington pictured on the path in Wandsworth Park said:"This would be great for cyclists using Wandsworth Park at night - a quicker and safer option than the main road. It would also benefit commuters going to or from Riverside Quarter riverbus pier in the dark and anyone walking through the park to Putney in the dark. At the moment, the park can be a little spooky at night, as there is no lighting at all. It would also help people wishing to jog or keep fit after dark or to walk their dogs, as they'd feel safer."

Councillor Torrington is proposing that the path should be be paid for out of Wandsworth Council's Community Infrastructure Levy – money paid from local building developments. "The funding is available for community facilities such as this but in these cash-conscious times it is only available for capital projects which do not have a need for revenue. The advantage of this scheme is that it won't require electricity or ongoing manpower to replace light bulbs etc...once the path it laid it looks after itself!

Cllr Torrington continued:"But to secure the project I need as much local support as possible. If local residents want to see this path in Wandsworth Park, please follow the link below and complete a short survey. Then I can demonstrate that there is plenty of support".
March 5, 2014