St George's Hospital Surgeon An NHS Hero
---
Patient Shereen Sadiq awards her very special hero


St George's Hospital was the setting for a special reunion this afternoon as Shereen Sadiq returned to the hospital to pay tribute to her NHS Hero, Mr Mehmet Manisali, the maxillofacial surgeon who has turned her life around.

Five years ago Shereen was hit four times on the head with a blunt instrument and left for dead during a burglary at her home. Shereen's injuries were so severe she was not expected to live, with the right side of her face completely crushed.

Fast forward five years and Shereen is enjoying life again. A number of neurosurgical operations saved Shereen and intensive therapy and neurorehabilitation have got her back on her feet.

On top of this, over a period of four years Mr Manisali and his team undertook a series of complex operations to rebuild Shereen's face, giving Shereen her self esteem back and a hugely important boost to her confidence.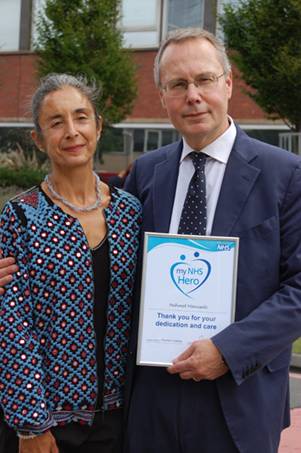 As a gesture of her gratitude, Shereen nominated Mr Manisali for an NHS Heroes Award, a national award scheme that recognises the extraordinary efforts of staff from across the country.*

On handing Mr Manisali his award, Shereen said:
"I nominated Mr Manisali as my NHS Hero as he is an inspiring, warm and caring surgeon who has changed my life, and helped me look in the mirror again. Mr Manisali is a brilliant maxillofacial surgeon, and I, as one of his reconstructed patients, can now look forward to the future thanks to him."

A clearly touched Mr Manisali said:
"It is very humbling to be presented with this award, and very special to me as being nominated by one of your patients makes it a very personal and emotional experience. I am delighted with the progress Shereen has made over the last few years, and have to pay a huge amount of credit to my team who have supported her every step of the way, and to Shereen for the inspiring courage and determination she has summoned over the last few years."

July 26, 2013