Say lack of 'water-tight pledge' on guards makes industrial action necessary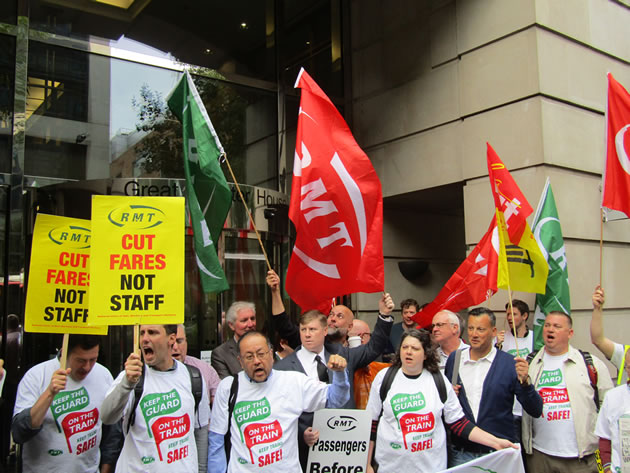 RMT members demonstrate outside the Department of Transport
South Western Railway (SWR) services look set to be the latest London network to be hit by industrial action.
With London Underground and Southern Rail being affected by industrial action this week, the RMT have announced that 80% of their members on SWR have voted to strike on a turnout of over 76%.
SWR operate the former South West Trains franchise that runs Hounslow Loop services through Chiswick and Brentford and commuter services into Waterloo through stations such as Putney and Wandsworth Town.
The dispute is over whether or not trains should be allowed to run if a guard is not available. The RMT say they have tried to get a water-tight pledge out of the new owners on the issue but claim to have been met with a 'barrage of spin and prevarication'. The company say they are committed to retaining guards on trains whenever possible. They dispute the union's assertion that guards are safety critical pointing to other networks who have driver operated only trains with no reduction in safety.
Mick Cash, RMT General Secretary, said, "RMT has given repeated opportunities for First MTR to give us the assurances we have sought over the future role of the guards on their trains throughout the length of the new South Western franchise. They have refused to give us those guarantees and it is that failure which left RMT with no option but to declare a formal dispute with the company and to conduct a ballot for action.
"Our members have now voted overwhelmingly for both strike action and action short of a strike and that massive mandate will now be considered by RMT's executive who will decide the next steps.
"This dispute can be easily resolved if the company are prepared to stick to existing agreements, give staff and passengers alike a guarantee of a second, safety-critical member of staff on all current services and an assurance that safety and access are the absolute priority.
"Guards on SWR have been hailed as 'legends' in company publicity material. It is time for First MTR to stand by those legends and to withdraw the threat to throw them off the trains. That is the message that RMT will be taking out to the fare-paying public as we step up our campaign."
A South Western Railway spokesperson said, "We are disappointed that some of our staff have chosen to vote for industrial action. None of us want to be in this position and any potential action will cause unnecessary disruption for the customers we serve.
"We have been clear that we plan to retain a second person on our services, as we know that our passengers value the assurance and assistance a second member of on-board staff provides. That's why, during our franchise, we will increase the numbers of drivers and guards so we can deliver more services for passengers.
"We urge the RMT to avoid premature strike action and work with us to deliver for our customers, and we look forward to meeting them again to discuss our future plans on 5 October as already arranged."
As yet there is no indication of when the strike is going to take place.
Live Updates on South Western Rail Services
October 3, 2017