RMT union planning three more days of industrial action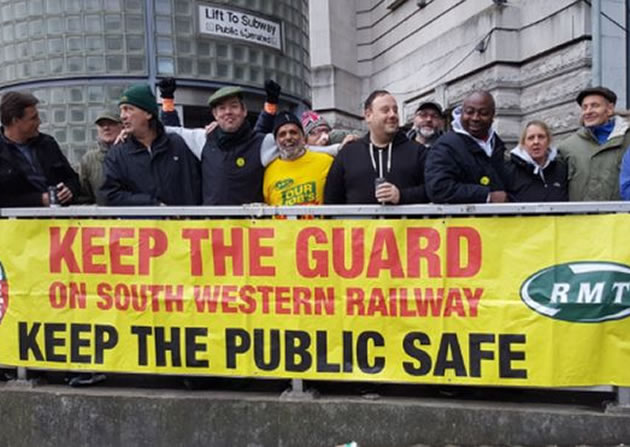 RMT members demonstrate
South Western Railway (SWR) services are set to be disrupted by more strikes this month and next.
The RMT union have reballoted their members about industrial action and received a vote in favour which they describe as 'rock-solid' with 88% backing the move.
Guards and drivers from the union have been instructed not to book on for shifts on the following days:
• Friday 22 February

• Saturday 9 March

• Saturday 16 March
The last day means that services to Twickenham for the England vs Scotland Six Nations' rugby international may be disrupted although when similar clashes have occurred priority has been given to providing trains to serve spectators.
The union have suspended strike action on Northern Rail after they say they secured a guard guarantee and they are asking SWR for a similar deal. The company claims that what they have already offered is equivalent to the deal which ended the strike on Northern.
RMT General Secretary Mick Cash said, "RMT has been forced under the latest wave of Tory anti-union laws to ballot for a fourth time in the rail safety dispute on South Western Railway under the six month rule and once again our members have stood united and solid and have renewed the mandate to carry on the fight to put public safety before private profit.

"It is a disgrace that South Western Railway have yet again opted to play for time over the past six months rather than acting responsibly and getting round the table with the union to work out a solution to this dispute that puts safety and the guard guarantee centre stage. That is the package we have successfully negotiated in both Wales and Scotland and on a number of English franchises. It defies belief that we are being denied the same positive outcome on the South Western Railway routes."
A South Western Railway spokesperson said, "We are obviously very disappointed for our customers that the RMT union plans to continue this needless industrial action.
"We have repeatedly committed to rostering a guard on all our services – the same assurance that seem to have been sufficient for the RMT to suspend its strikes elsewhere in the country only yesterday. No jobs are at risk and our plans over the course of the franchise mean we will need more guards, not fewer."

SWR provide live updates on services during strikes.

February 7, 2019