Union accuses management of deceit who respond action 'unnecessary and disruptive'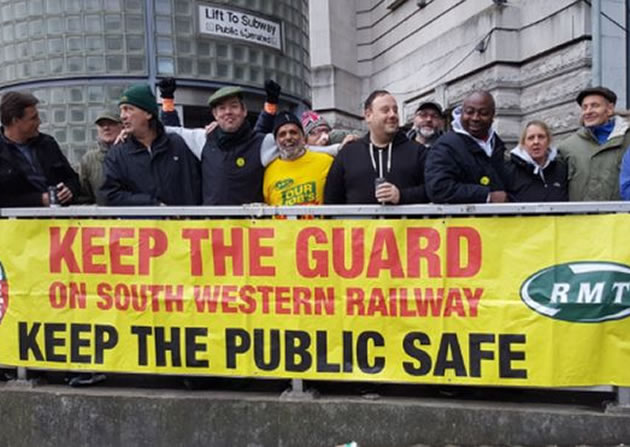 RMT members demonstrate
Each side in the dispute on South Western Railway (SWR) is accusing the other of bad faith after the breakdown of talks.
The rail union RMT has alleged deceit over agreements which they say were proposed and then withdrawn by the company over guaranteeing a guard on the train. As a result they have called 27 days of strike action in December saying that management reneged on agreements that had been made in principle and in good faith.

The company are denying this claiming they there were in talks with the union about the issue when the RMT suddenly announced industrial action. A SWR spokesperson described the strikes as unnecessary and disruptive saying, "The deliberate targeting of services up to, and during, the Christmas period is typical of the lack of concern the RMT continue to have for our customers.
"The RMT has always said it wanted us to keep the guard on every train. That is what we have offered as part of a framework agreement if the RMT work with us to agree a method of operation for our new trains which fully utilises the new technology to improve safety, security and accessibility as well as day-to-day performance. Instead the RMT appear purely focussed on keeping control of train doors in a misguided attempt to hold power over the industry".

RMT General Secretary Mick Cash said, "The strike action called is well and truly down to SWR's mismanagement and disingenuous position on the agreement and discussions.

"This dispute could easily be resolved if management started taking discussions seriously. SWR are once again showing their true colours, leading the union to believe we almost had a deal before pulling the rug from under our feet.

"We still have not received anything from the company and they have made no attempt whatsoever to reach an agreement. These strikes could have easily been avoided if the company had stuck to their agreements, corresponded with RMT and offered further discussions.
The union has instructed Guards, Commercial Guards and Driver members to take the following strike action:-
• Not to book on for duty from Monday 2 December 2019 until Wednesday 11 December
• Not to book on for duty from Friday 13 December until Tuesday 24 December 2019
• Not to book on duty from Friday 27 December 2019 until the 1 January 2020
RMT General Secretary Mick Cash said, "Our members have been left with no choice but to call a further 27 days of strike action on South Western Railway.

The SWR spokesperson added, "Whilst we have shown commitment to the role of the guard by introducing over 80 additional guard roles since the start of our franchise, the RMT do not have the long-term interests of either our customers or our colleagues, including their members, at the heart of their actions.
"We remain committed to finding a solution that will help us build a better railway for everyone. We will do everything we can to keep customers moving during strike action."



November 15, 2019