Jonathan Kennedy has been with the arts company for ten years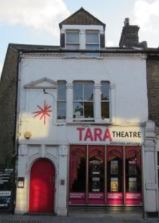 Jonathan Kennedy - current Director
The Executive Director of Tara Arts in Earlsfield, Jonathan Kennedy, is to step down at the end of March after ten years in post to pursue freelance projects.
He will continue as an Associate Producer at Tara in the interim, leading the company's work with the Black Theatre Live touring consortium.
Jonathan joined Tara Arts in 2007 and in his time with the company has co-produced numerous shows, including The Black Album with the National Theatre, and transferred The Tempest to the West End.
He also leads Black Theatre Live, a national touring initiative to improve representation of BAME theatre companies. Working alongside Artistic Director Jatinder Verma, Jonathan played an essential role in the redeveloping of Tara Theatre into a national hub for cross-cultural theatre.
The new building opened in Autumn 2016 and recently received the Sustainability Award from The Stage.
Speaking about his time at Tara Arts, Jatinder Verma said: "Jonathan joined us at a time when 50% of our funding was cut. Far from being daunted, this only served to spur further his commitment not only to Tara but also to its mission.
"Ten years on, this mission is enshrined in the new Tara Theatre, which re-opened late last year. We could not have achieved this transformation without Jonathan. So while he leaves to open another chapter in his management career, he leaves assured footprints for others to follow, with all our best wishes filling his sails."
A new Executive Director is expected to be announced in March.


April 29, 2013