'Simon' from Sainsbury's deli counter in Chiswick being sought for documentary
Artist and campaigner Tasleem Mulhall, is desperately seeking a man she dubbed 'SimonSainsbury' who saved her from being married off by her parents when she was a teenager.
Simon was the former manager of the deli counter in the Chiswick branch of the supermarket, but lived in Southfields. Tasleem met 'Simon' when she was doing work experience in Chiswick aged 16. She said her parents were extremely strict and used to spy on her while she was working in the store.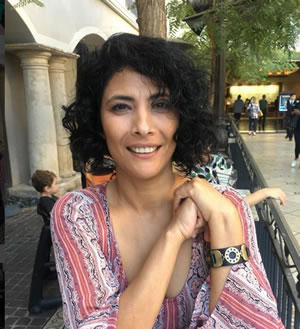 Tasleem Mulhall
"He was the deli manager and I was terrified to talk to him or to any other man, because I wasn't supposed to. He realised that there was something wrong, and said to me that if I ever got into any trouble, I should call his phone and he would help me."
"Later, at college, where I was studying hairdressing, I got friendly with a woman who came in to be a model for the students."
"Some time later my parents were threatening to force me into marriage. I decided to run away and I ran to her house and she let me stay there. But I was worried my parents would find me and I would be punished. So I tried to phone Simon. It took a few times before I got through to him, but he came to the house and took me out of the area."
She said that after staying in his flat overnight, she was helped by others to find refuge in central London and she was helped to start a new life. If her parents had found her, she said they might have sent her to Yemen to get married- her mother, who is Indian, and her father, who is from Yemen, are still alive.
The artist/activist has been cut off from her parents and siblings for years, and has received death threats for her outspoken art and words that address the taboo subjects of forced child marriage and female genital mutilation.
Born in Aden,Yemen-Tasleem is the first British Yemeni female artist. And she is now a campaigner Against Force and Child Marriage. She is now writing a book and making a documentary about her life. She wants to find Simon as he is relevant to her story.
"All I know is that he used to live with his brother in Southfields. He moved from Chiswick to the Hammersmith branch as far as I know. Then I think he married a woman who had two sons. That is all I know."
She later got married and had children, and has moved on with her life. Now she is reconstructing her journey and the dramatic experience of her mid teens, partly to highlight the problems faced by other girls.
Tasleem says that she contacted Sainsburys but they could not trace the mysterious Simon.
Journalist Dominic Connolly is helping her to write the book and they are also working on a documentary which will reconstruct her journey.
If anyone has any idea who SimonSainsbury could be, do email editor@chiswickw4.com
November 16, 2018