Mayor says Londoners being punished by government conditions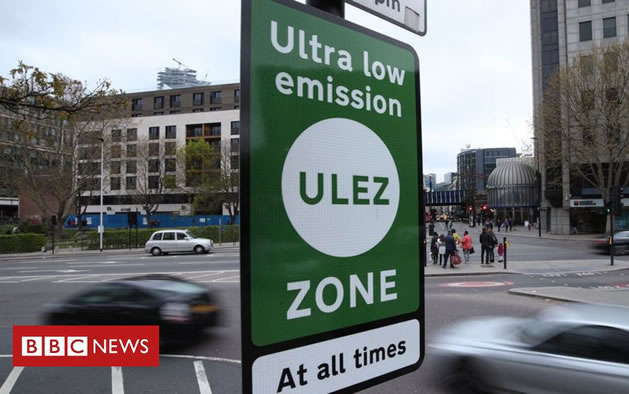 Congestion charging in central London is to return this Monday as part of a range of measures agreed between the Mayor and the government following a bailout for TfL.
Earlier last week Sadiq Khan had said that it would be three weeks before the levy on drivers would be reinstated as the priority was to stop public transport becoming overcrowded.
According to a Downing Street spokesperson the roads in central London would come to halt without the charge and it was "an important tool to ensure that emissions in London remain low and support better air quality".
The operation of the scheme will be temporarily extended from 7am to 10pm and there will also be an increase in the charge from £11.50 to £15 from 22 June.
The exemption to NHS workers, which was introduced earlier this year, will also be extended to care home workers.
Natalie Chapman, of the Freight Transport Association said, "How are shops to be supplied, restaurants and cafes to be stocked and the rest of the capital's economy to obtain the products it needs when those charged with delivering these needs are to be punitively taxed at a time when their own industry is in recovery?"
Sadiq Khan has also been forced to abandon his policy of fare freezes and rises of 1% above the rate of inflation will be imposed from January.
TfL have also agreed to end free travel for younger children across London and restrict the operation of the travel passes for those over 60 in peak hours.
Fares on buses, which were scrapped to protect drivers who have been particularly hard hit during the outbreak, will also be reintroduced.
The Department for Transport (DfT) have said the changes would be implemented "as soon as practicable".
The Mayor said, "I want to be completely honest and upfront with Londoners, this is not the deal I wanted. But it was the only deal the government put on the table and I had no choice but to accept it to keep the Tubes and buses running."
He added, "This deal is a sticking plaster. The old model for funding public transport in London simply does not work in this new reality – fares income will not cover the cost of running services while so few people can safely use public transport."
The RMT Union issued a statement saying, "We will be seeking an urgent meeting with both the Mayor and Secretary of State for Transport to make clear London Transport workers will not pay the cost of the crisis.
"It looks like Boris Johnson is back in charge of transport in London. We will not accept one penny of austerity cuts imposed by Whitehall or passed on by City Hall as part of this funding package and our resistance will include strike action if necessary."
At the same time the Mayor is closing some streets to motor traffic and restricting others to buses only in what he is describing as "one of the world's largest car-free zones".
Waterloo Bridge and London Bridge may be restricted to people walking, cycling and buses only with pavements widened.
Sadiq Khan said, "We will need many more Londoners to walk and cycle to make this work. That's why these plans will transform parts of central London to create one of the largest car-free areas in any capital city in the world.
"If we want to make transport in London safe, and keep London globally competitive, then we have no choice but to rapidly repurpose London's streets for people. By ensuring our city's recovery is green, we will also tackle our toxic air which is vital to make sure we don't replace one public health crisis with another. I urge all boroughs to work with us to make this possible."

May 17, 2020