Four Legged Friends Welcomed At Local Hospice
---
Pet therapy dogs bring joy to patients at Royal Trinity Hospice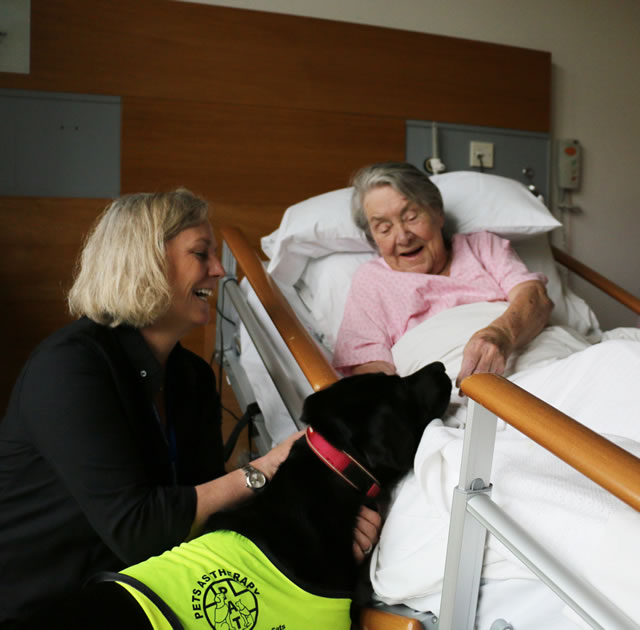 Black Labrador, Chilli and her owner, Claire brings a smile to Trinity resident

Royal Trinity Hospice welcomed its first pet therapy dog earlier last month (9 December 2016) as part of a new initiative aimed at bringing companionship and comfort to patients at the hospice.

The black Labrador, Chilli and her owner, Claire, visited several patients in their rooms who stroked Chilli and fed her treats. Chilli is one of three specially trained dogs who will now visit the hospice for a few hours a week as part of this new programme. Chilli and Clare will be joined by Simone with her Border Terrier, Clemmie, and Teresa with her Schnauzer, Alfie, in the coming weeks.

Adam Marsh, Volunteer Services Manager, said:
'You just can't underestimate the sheer amount of joy which pets can bring to people. You could see that Chilli visibly cheered the patients up as soon as she walked into the room. Lots of our patients may have cared for pet dogs in the past, so the visits will hopefully bring back many happy memories for them.'

All of Trinity's therapy dogs have been assessed and fully vetted by national charity, Pets As Therapy. The charity aims to enhance health and wellbeing in the community through the visits of trusted volunteers with their behaviourally assessed animals.

If you have a few hours to spare and would like to volunteer to help Trinity then you can check out the range of opportunities available at www.royaltrinityhospice.london/volunteer-vacancies.



January 10, 2017