Royal Trinity Hospice celebrates a record fundraising total at its biennial Gala Dinner this weekend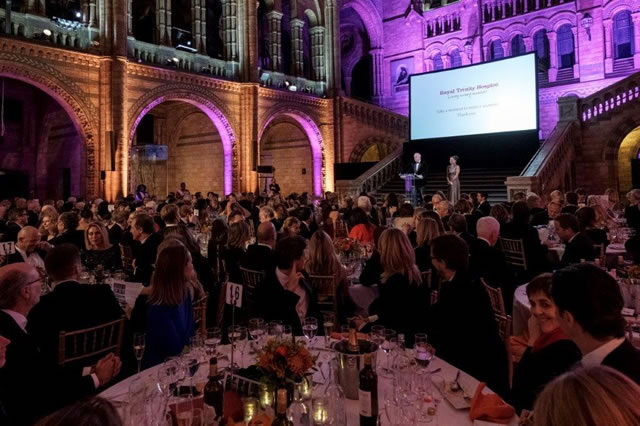 The charity held the black-tie event, attended by over 450 guests, beneath the famous blue whale at the magnificent Natural History Museum. Hosted by Trinity Patron and BBC news anchor Huw Edwards and hotelier and TV presenter Alex Polizzi, the evening raised over £300,000 for the hospice.
The theme of the event asked guests to "take a moment to make a moment"; and make sure Trinity can continue helping patients make the most of every moment they have left by bidding on auction items and pledging to sponsor a nurse for a month. The final total included pledges to fund one of Trinity's specialist nurses for over 2 years.
Trinity is the local hospice for south west and central London, including Wandsworth, covering a population of 750,000 people. It is the only hospice that provides support and care for patients with progressive, life-limiting illnesses, free of charge, in this part of London and last year supported over 2,300 patients through its inpatient ward, outpatient and community services.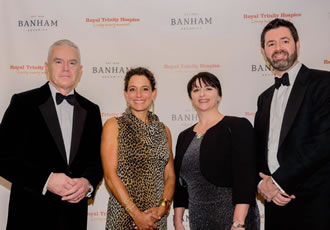 L-R Huw Edwards, Trinity Patron and BBC news anchor, Alex Polizzi, hotelier and TV personality, Dallas Pounds, CEO, Royal Trinity Hospice, Ben Harvey, Trinity supporter
Dallas Pounds, CEO of Royal Trinity Hospice said: "I would like to express my most profound thanks to all of our guests at Saturday's Gala for making it our most successful fundraising event ever.
We are overwhelmed by the generosity shown to Trinity on the night and by all of our auction donors and our sponsor Banham Security. As an independent charity, our NHS funding accounts for around a quarter of the £13 million we need each year to fund our services. That means that we need to raise over £9 million every year. The amount raised at the Gala will make a phenomenal difference to our patients and their families and will help us to ensure they live every moment they have left to the full.
I'd like to say a special thank you to our hosts Alex Polizzi and Huw Edwards, and to Banham Security for generously supporting this incredible event."
Charles Hallatt, Banham's Executive Chairman said: "On behalf of Banham Security and the Banham Charitable Foundation, we are delighted to have sponsored the Royal Trinity Hospice Gala Dinner. We are thrilled that the evening saw a record amount of funds raised for such an incredibly important cause. Royal Trinity Hospice is a cause close to our hearts and we are delighted to support them in continuing to provide excellence in compassion and support to so many during their end of life care."
December 11, 2018