Royal Tinity Hospice Receives Royal Guest
---
Her Royal Highness Princess Alexandra visits Clapham Hospice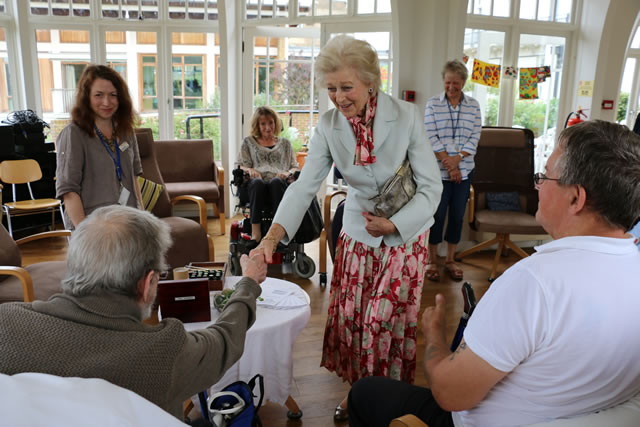 HRH Princess Alexandra meets patients at Royal Trinity Hospice

Her Royal Highness Princess Alexandra visited Royal Trinity Hospice in Clapham today where she met staff and patients and learned more about the support on offer for people with progressive, life-limiting illness and their families. She also visited Trinity's retail office where she learned more about the vital role of Trinity's shops.

During her visit, The Princess met staff, volunteers and patients in Trinity's Outpatients Centre and saw physiotherapy, complementary therapy, art therapy and relaxation group sessions in action. Following this, Her Royal Highness toured the Inpatient Centre and met patients and their families in the modern 28 bed facility which caters for people from across central and southwest london.

After visiting the hospice, Princess Alexandra then travelled to Balham to visit the office of Royal Trinity Hospice's retail team. The Princess was introduced to staff and learned more about Trinity's 25 high street shops and new online eboutique. All profits from the shops go towards supporting Trinity to provide free end of life care.

Dallas Pounds, Chief Executive of Royal Trinity Hospice, said:
"We are delighted to welcome Her Royal Highness Princess Alexandra to Trinity today. We are thrilled she has been able to see the wide range of support we provide patients and families, at all stages of illness. We are also proud to share our exciting plans for Royal Trinity Hospice shops, without which we could not continue."

Princess Alexandra is a loyal supporter of the hospice movement and is a patron of St Christopher's Hospice, London. HRH The Duchess of Cornwall has been patron of Trinity for 10 years and visited earlier this year to mark Trinity's 125th anniversary.

September 8, 2016