Lulu Guinness & Alexander McQueen To Name But Two Bargains
---
Royal Trinity Hospice launches online charity designer boutique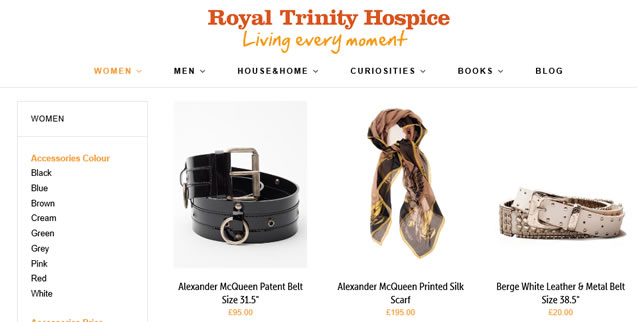 Royal Trinity Hospice, the local charity providing free end of life care, has launched an online designer boutique this month. Trinity Boutique contains a curated collection of over 500 pieces of men's and women's fashion, accessories and collectables for the home, with all profits going towards providing free care for people approaching the end of their lives and their families.

The new online boutique showcases high-end fashion from top British and international brands like Marni, Prada and Stella for women as well as Boss, Hackett and Hermes for men, all modelled by Trinity's own staff and volunteers. There are also VIP donations from household names, art and books, as well as a quirky range of collectables and curiosities for the contemporary home.

The website also features hints and tips on hot fashion topics like decluttering, getting the best out of your vintage finds and the secrets of charity shopping from Trinity's in-house experts and guest bloggers.

Andrew Adair, Director of Retail at Trinity, said
"Trinity's loyal high-street customers come back week after week for our unique, high-quality designer stock. By taking our bargains online, we hope more people can enjoy the Trinity shopping experience in the comfort of your own home. And what's more, you can shop in the knowledge that every penny of profit goes towards providing vital funds for a well-loved charity."

To visit the Trinity Boutique, go to www.royaltrinityhospice.co.uk. Trinity also has 25 charity shops across central and southwest London where you can grab a bargain or donate clothes, books and other items to be sold in the shops and online. To find your local shop, visit www.royaltrinityhospice.london/find-a-shop.


August 26, 2016