Overlapping walkouts will cause chaos on Wednesday and Thursday
Two overlapping tube strikes on the Piccadilly and Central lines look set to go ahead this week, causing chaos over Wednesday and Thursday.
The Waterloo and City will also be hit by industrial action.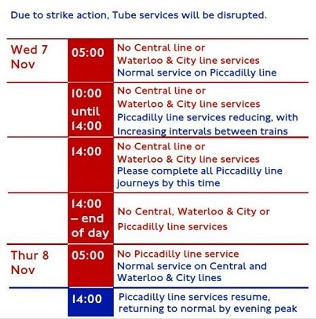 TfL says if the planned walkouts go ahead, we can expect:
The Central and Waterloo & City lines will have very limited or no service throughout the day on Wednesday 7 November, with normal services resuming the next day

The Piccadilly line will have limited or no service from approximately 2pm Wednesday 7 November until approximately 3pm on Thursday 8 November

Other TfL services will run as normal, but will be busy. Roads will be busier than usual.
Check before you travel and plan ahead using our travel tools. Keep up-to-date with the latest service information. See:
This web page which will be regularly updated
TfL Twitter accounts, including @TfLTravelAlerts, @centralline, @wlooandcityline, @piccadillyline, @TfLBusAlerts and @TfLTrafficNews as well as the TfL Travelbot on Facebook Messenger
Plan a journey, which can help you plan your route by public transport, cycling or walking
Check the latest status updates
Nearby, which uses your current location or a postcode or address of your choice and places you on a map, showing you Tube, bus, river, London Overground, DLR, TfL Rail and Santander Cycles locations around you
Email updates

TfL advises people to use alternative routes on Tube, rail and bus services throughout the strikes.
If the strikes go ahead, it will run as many trains as possible.
There will be limited or no Piccadilly line services from early afternoon on Wednesday 7 November. Travellers are advised to complete Piccadilly line journeys in the central London area by 1.30pm on Wednesday.
Piccadilly line services will resume with delays by 3pm on Thursday 8 November, with a good service running by approximately 4pm.
Interchange stations along the Piccadilly, Central and Waterloo & City lines will be much busier than usual.
These stations will be particularly busy during the morning and afternoon peaks and at times may need to close temporarily to prevent overcrowding: Stratford, Finsbury Park, Hammersmith, King's Cross St Pancras, Warren Street, Green Park, Bond Street, Piccadilly Circus, Tottenham Court Road, Bank, Liverpool Street, Woodford, Mile End, Leytonstone, White City, Ealing Broadway, Oxford Circus, Notting Hill Gate.
Services on other lines will run normally, but are likely to be busier than usual.
The Tube walking map shows average walking times between stations in zones 1-3.
People travelling to Heathrow Airport are advised that on Wednesday the last Piccadilly line train from Cockfosters to Terminal 4 departs at 12.41pm, arriving at 1.45pm. The last train to depart from Cockfosters to Terminal 5 departs at 12.59pm arriving 2.01pm.
During the strike, use TfL Rail and Heathrow Express services to/from Paddington station. The TfL Rail service is approximately every 30 minutes and takes 35 minutes.
These services are likely to be busy - buy your ticket in advance to avoid delays. London Underground tickets and Oyster are not valid on Heathrow Express services.
The A4/M4 motorway route to Heathrow will be busier than usual.
To plan a journey to or from an airport without the Tube, go to tfl.gov.uk/journeyplanner and deselect the Tube option to see alternative routes
The RMT say there has been a 'comprehensive breakdown' in relations with management who they accuse of a failure to employ enough drivers, abuse of agreed procedures and the victimisation of a trade union member.
RMT General Secretary Mick Cash said, "Industrial relations along the Central Line have been at breaking point for some time now and the failure of the management to address the issues, and a conscious decision to up the ante by attempting to single out and pick off individual members of staff, has tipped the situation over the edge and has led to the announcement of strike action today.
"There is a growing culture on London Underground that revolves around refusing to employ enough drivers, bullying staff and expecting our members to pick up the pieces when the service breaks down. RMT members on the Central Line have made it clear that they have had enough and are prepared to stand up and fight for workplace respect and justice.
"Tube bosses are well aware of the level of anger on the job and it's down to the them to take the situation seriously and engage in genuine talks around reaching a solution to the current disputes."
November 5, 2018