Plans for seven hotels in Wandsworth borough
Travelodge seeks to open an additional 145 hotel across the London boroughs, which they say will will create nearly 4,000 new jobs across the capital and boost the local economy annually by £290million.
Travelodge, the largest hotel brand in London, is seeking to add seven more hotels to its portfolio in the Borough of Wandsworth.
With the three hotels the company already operates in the Borough performing strongly, Travelodge is looking for sites they can develop in:
- Battersea Old Town
- Earlsfield
- Nine Elms Lane
- Putney
- Roehampton
- Wandsworth Town

If the company is successful in finding suitable locations in the Borough then an additional 140 jobs will be created and upwards of £14m generated for the local economy.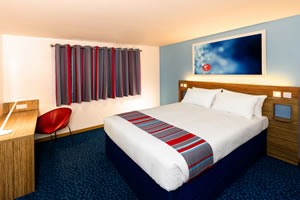 Grant Hearn, Chief Executive of Travelodge Hotels, said:
"Our three existing hotels in Wandsworth are performing strongly all year round. Whether it be business travellers, leisure customers or families coming to visit loved ones, we are regularly achieving high occupancy levels. Inner London boroughs have a lack of good quality, affordable accommodation. Unfortunately, business and leisure visitors who want to stay close to central London do not currently have many options at a price point that represents value.

New style bedrooms planned for new hotels
"Opening hotels at our targets locations in Wandsworth will ensure that the borough benefits from tourists to the capital who want to experience all that the local area has to offer, as well as be close to central London."
March 22, 2013