Uber Takes To The Thames
---
New branding for the river service from Putney to Woolwich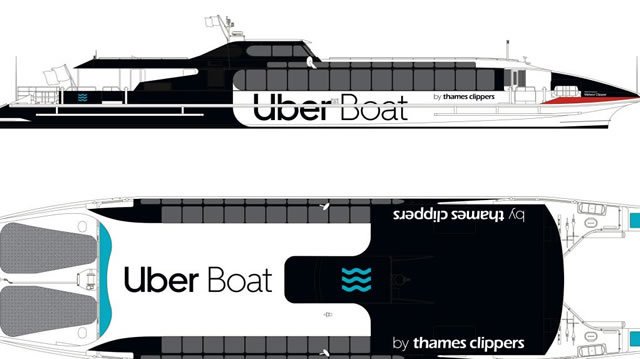 New branding for the Thames Clippers - image: Thames Clippers
Thames Clipper vessels are vessels are currently being re-painted from bright blue to black as the company enters a partnership with Uber.
Uber users will be able to purchase tickets in advance through the Uber app and then use QR technology to board the boats, and the payment will be processed using the user's Uber account details.
Passengers will continue to be able to purchase tickets via the existing Thames Clippers sales channels, including touching in and out with contactless or Oyster to pay as you go at the piers they serve across London.
Sean Collins, Thames Clippers co-founder and CEO said: "In our 22nd year of operation it is key that we continue to support London and its commuters with the ease of lockdown and return to work. The new partnership sees Thames Clippers and Uber, who both pride themselves on safety, reliability and comfort, come together. It will allow us to link the two travel modes of river and road, providing Londoners and visitors with even more options to commute, visit, explore and enjoy our city by river. Watch this space; the partnership will support the ongoing expansion of our network, opening up more of London to fast, reliable journeys by water."
Jamie Heywood, Regional General Manager for Northern and Eastern Europe, Uber, said: "Londoners are looking for new ways to travel around the city, particularly when they start commuting back to work. Later this summer we will launch the Uber Boat by Thames Clippers partnership in London as a means for people to travel into the City by water, which will be fully integrated through the Uber app."
There is no change in ownership for Thames Clippers; AEG, owners and operators of The O2, own the majority stake in the company.

Thames Clippers say they naturally provide good personal spacing and in addition they have reduced our passenger capacity to ensure even greater social distancing. At peak times pre-coronavirus, Thames Clippers carried 1.4 passengers per square metre. With the new social distancing measures in place, this is reduced to just 0.85 passengers per square metre. For context, ordinarily, there were 5-7 people per square metre on the London Underground and with its current social distancing measures, TfL has managed to reduce this to around 1.3 passengers per square metre.


July 9, 2020