Bidding to become the strategic voice for business in the borough
Wandsworth Council's cabinet member for economic development and business partnerships, Councillor James Cousins, introduced the Wandsworth Business Partnership to 350 local entrepreneurs at the Wandsworth Business Forum networking event for 2012.
The new strategic business partnership aims to promote inward investment and support local businesses, as well as providing a voice on key concerns such as parking and business rates.
It also aims to improve communication between businesses and the council.
Cllr Cousins said: "We hope the Wandsworth Business Partnership will be the body that we can talk to, that we can consult with, and that can tell us when we're doing things well - or perhaps more importantly if we're not succeeding.
"In order to ensure a thriving local economy in these difficult times it is hugely important for the council to be told about those actions we may want to consider to make things that bit easier for businesses in Wandsworth. We hope this will be just the start of more important future collaborations with our local business community."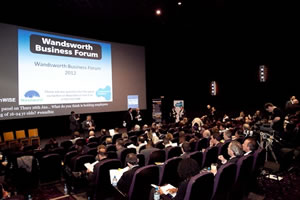 The Wandsworth Business Forum, which took place at Cineworld, in Wandsworth, on January 26, provides a platform to discuss current local and national issues affecting the business community.
The annual networking event, organised by Wandsworth Council and Wandsworth Chamber of Commerce, also gave guests a chance to present and listen to new business opportunities.

Chris Wyatt, chairman of Wandsworth Chamber of Commerce, oversaw the meeting, which included presentations on a variety of topics, including the council's budget for 2012/13, an update on the business opportunities presented by developments in Nine Elms, public sector procurement in London, and small business finance.
Business owners or employees who want to receive the latest news from the Wandsworth Business Partnership can connect via its LinkedIn group – Wandsworth Business Partnership.
Over the coming weeks, questions which were asked but not able to be answered in time by speakers at the forum will be posted on LinkedIn February 15, 2012rship can be followed on Twitter – @BusinessWandBC.
February 14, 2012