Wandsworth council reports on its response to Covid-19 crisis to date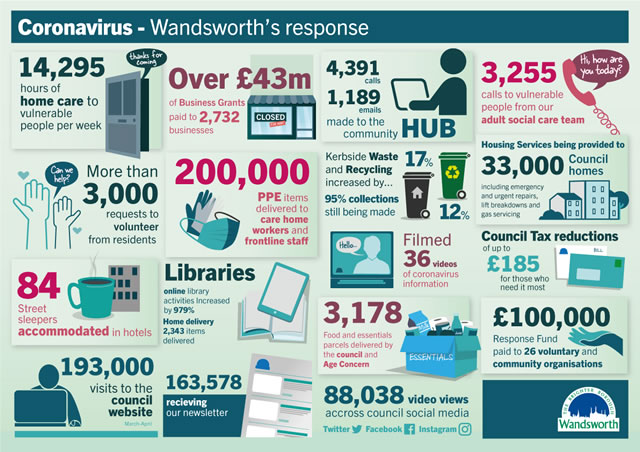 A report looking at the ways Wandsworth has reacted and adapted to life under lockdown over the last couple of months will be scrutinised at the next on line Finance and Corporate Resources Overview and Scrutiny Committee (FCROSC).
Leader of the Council, Cllr Ravi Govindia, said, "We have seen an amazing effort from all our staff and the wide range of providers and partners who we work with, over the last few weeks. This has been a difficult time for everyone and the commitment, adaptability and resilience of staff has made me incredibly proud. From the very start this council has stood up for its residents and we are working hard to get the borough through this whilst protecting our most vulnerable residents."
The report gives an overview of what the council has been doing, how essential services have been maintained and the measures it has put in place to help residents, businesses, community groups and the people across the borough who have needed help the most.
From the start of lockdown the council saya ur moved quickly and set up one of the first community hubs in London with a helpline and email address for residents to contact if they needed urgent help or advice.

Since then it has taken more than 4,000 calls from Wandsworth residents, many of whom are elderly or vulnerable, and the council been able to help them, often through securing food deliveries. Many of these have come from the food distribution hub, which was set up at the Town Hall, and together with Age Concern Wandsworth has seen more than 3,000 food parcels delivered.
The council also created an emergency £100,000 response fund to get money quickly to voluntary organisations that are on the ground now helping vulnerable people through the crisis.
Awards have been given to 26 local organisations who are best placed to support Wandsworth residents and can have an immediate, positive impact.
In adult social care safeguarding remains a priority and all safeguarding referrals are being responded to. Home care hours continue to total more than 14,000 each week and while day services for people with care needs have closed, staff are maintaining contact with them online, with many delivering food and helping with shopping and collecting medicine.
Wandsworth is also aiming to ensure that vital PPE is being distributed to where it is needed most and to date, combined with Richmond Council, 200,000 items of PPE have been delivered to care home workers and frontline critical staff. This includes 120,000 pairs of gloves, 37,000 masks, 33,000 aprons, 750 litres of sanitiser gel, and 500 face visors.
Within housing emergency and urgent repairs continue to be carried out, including lift breakdowns and periodic gas servicing to 33,000 council homes.
All council residents aged over 70 are being checked on to see whether they are coping and whether they need assistance.
And the council has also been accommodating rough sleepers with 84 people so far put up in hotels to take them off the streets.
Staff working in property services and facilities management have been working hard to ensure that some council buildings have remained open, especially in relation to supporting the Community Hub, the food distribution operations and other front-line services.
From the start of lockdown the council say they identified critical priority services that needed to continue including waste and recycling collections, street cleansing, environmental health, parks management and policing.

While some services like libraries have been cut back in line with Government announcements, a home delivery service has been maintained and online library services have increased – some by almost 1,000 per cent.
While schools have remained open for the children of key workers the council is also supporting schemes to help families who can't send their children to school and the ability to continue their education from home is impacted by digital poverty.
Thanks to a partnership with Battersea Power Station £10,000 of emergency top-up phone vouchers are being distributed to local families with local businesses or residents encouraged to donate unwanted laptops or tablets to keep Wandsworth families connected to schools.
The council's Work Match service, that places Wandsworth residents with local businesses, has been contacted by over 500 people seeking their services over the last five weeks. Work Match has been either finding them jobs, helping them to up-skill or offering support for those who need it during these difficult times.
The report also highlights what Wandsworth Council is doing to help businesses across the borough as well as the self-employed.
It has already distributed more than £42m in grants to over 2,600 local businesses and continues to receive claims from companies dealing with the impact of the coronavirus. A scheme, believed to be one of the first of its kind in the country, has also been set up to provide free accountancy advice for self-employed people who needed to submit tax returns in order to access government aid.
Other measures have also been introduced such as reductions to council tax bills for those on low incomes resulting in an average saving of £185 per household for over 3,600 of the borough's poorest households.
The Wandsworth Discretionary Social Fund has also been increased by £100,000 to support those families struggling with the cost of living.
And the business of the council has continued with virtual Committee meetings having taken place.
Cllr Govindia added: "What comes out of this report is the clear message that this council is continuing to work hard for our residents to ensure Wandsworth leads the way across London in the way we respond to this situation.
"This has been an incredibly difficult time for all of us, especially those affected directly by this virus. There is still a long way to go and we continue to work on a recovery plan so when lockdown measures are relaxed and the wider economy re-opens we are ready. Meanwhile we continue to stand alongside our residents every step of the way."
May 8, 2020