Local Residents and Businesses Asked to Donate Old Laptops
---
Part of the Power to Connect campaign to tackle digital poverty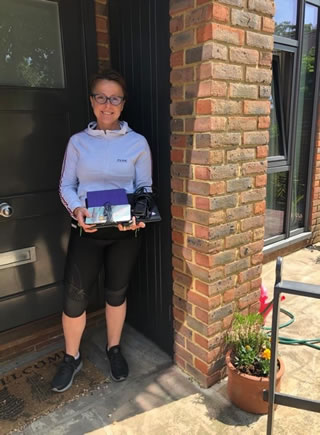 R esidents donate devices to the 'Power to Connect' campaign via Dons Local Action Group

With many children in Merton and Wandsworth boroughs who cannot access online learning as they do not have a laptop, tablet or internet access two local initiatives have been established to supply devices.

Local residents and businesses across Wandsworth are being asked to donate old laptops and tablets that are in full working order to be re-purposed by volunteers with IT experience who are giving some of their time and expertise to help.

The 'Power to Connect' campaign works with local community partners to improve access to computers or tablets. As part of the initiative, a new laptop and tablet collection scheme is helping both local families without a computer at home, and patients at St George's NHS Hospital in Tooting, who may be struggling to stay in touch with loved ones during this difficult time.

A computer renovation hub has been set up with strict social distancing practices in place. It will be staffed by a minimal number of volunteers who will wipe the computers before turning them into Chromebooks. Each device will be thoroughly cleaned and delivered to community organisations, such as St George's CE Primary School in Battersea, who will distribute them to local families and patients at St George's NHS Hospital.

Another initiative has been spearheaded by the AFC Wimbledon Foundation, the Dons Local Action Group and Keep Kids Connected, and supported by Fleur Anderson, Labour MP for Putney, Roehampton and Southfields, these donations will be given to primary schools in Putney & Wimbledon, such as Heathmere Primary School and the Alton Primary School which have already received some of the devices.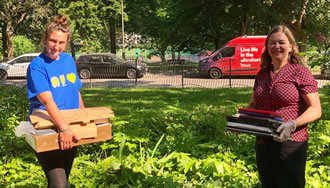 Ms Anderson told this website: "It is wonderful to see such generosity and community spirit from so many people. The Government are only providing laptops for a very few children and these are very delayed. It has been such a difficult period for parents, schools and pupils and these laptops will make such a big difference to their learning. It is a privilege to be involved in such a fantastic and innovative initiative. I'd like to say a huge thank you to all those who have already donated and to the Dons Local Action Group. Please keep the laptops coming!"

Wandsworth Council is issuing emergency phone data top-up vouchers to school pupils this week, thanks to a £10,000 fund from the Battersea Power Station Foundation (BPS). The aim is to ensure families can continue their children's education from home, using the hundreds of vouchers that are being distributed to schools who will distribute them to those households in need of a data boost.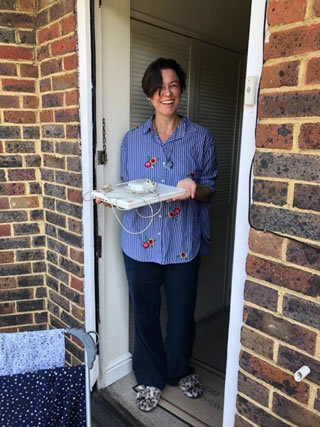 Councillor Will Sweet, Wandsworth Council's spokesman for Education and Children's Services said: "Wandsworth Council is determined to ensure that no child is left behind during the coronavirus crisis, so we are delighted to work with Battersea Power Station to improve digital access in local homes.
"Some families may not have the technology to enable their children to fully take part in lessons and homework while the schools are closed. Some residents rely on Pay As You Go data or don't have a computer for children to work on.
"This initiative will provide much-needed support for families at this difficult time and I'd like to thank the Battersea Power Station Foundation and our Children's Services team for working in partnership to get this incredible project off the ground so quickly and out to the children who really need it."

Alex Baker, Director of Communities and Sustainability at BPSDC, said: "The current lockdown situation is challenging for everyone but without access to a computer or broadband it can be an even more lonely and stressful experience.
"We hope the 'Power to Connect' campaign will help raise awareness of the digital exclusion issue faced by many of the UK's poorest families so it can be tackled both during lockdown and in the future to ensure those in most need are able to stay connected."
Sarah Collymore, Headteacher at St George's CE Primary School in Battersea, said: "The 'Power to Connect' campaign will be such a support to families on the estate who are home-schooling during the COVID-19 crisis.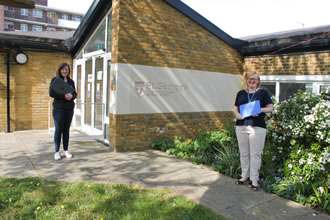 BPS's Alex Baker and St George's Headteacher Sarah Collymore
"The need for greater internet use at this time can prove impossible for families using Pay As You Go data or without computers, with children struggling to access their online learning. Lockdown can also be extremely lonely if you have no way of communicating with the world outside. However, as data credit runs out and families need to prioritise food over internet access, they can be left feeling isolated, disconnected and unable to access the wealth of home-learning resources out there."
If you would like to support the 'Power to Connect' campaign through computer donations, by volunteering IT expertise or your time to collect and drop off the refurbished Chromebooks, or by making a donation to the data top-up voucher fund, further information on how to get involved can be found at www.powertoconnect.co.uk

Dom Kelly, coordinating the Keep Kids Connected project for Dons Local Action Group said:"It's fantastic that we are all coming together to help kids keep up with their learning and in touch with their friends at a time when they feel so isolated. However, we need many more devices as schools have identified many more kids who do not have access to them at home. We urge anyone who has a spare laptop or tablet to change a child's life by going to email dla@afcwimbledonfoundation.org.uk

May 27, 2020