Gritting 230 miles of roads started mid week as temperatures fell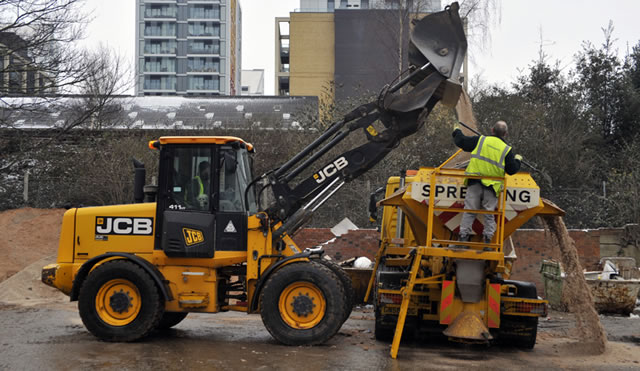 The council's gritting team are prepared for another busy period keeping the borough's roads and pavements clear of snow and ice as the capital gears up for another cold snap.
Gritters were out in the early hours of Wednesday morning (30 January) and spread 20 tonnes of rock salt on the borough's main roads. They were out again yesterday evening and into the early hours this Thursday morning (31 January) with icy temperatures again forecast.
The council has nine gritting lorries plus a large staff contingent who grit busier pavements and footpaths to keep pedestrians safe. It has a stockpile of around 4,000 tonnes of salt available to use.
When temperatures plummet and roads and footpaths are covered in snow and ice the council's fleet of gritting vehicles and dozens of staff are dispatched to clear it away, but with nearly 230 miles of road surface and 450 miles of pavements it is a mammoth mission that always takes time to complete.
To put this task into perspective, if all the borough's road space was laid out end to end it would stretch from Wandsworth to Liverpool. Doing the same with footpaths and pavements would see them reach almost as far north as Dundee city centre.
The task is made more challenging because in order to make the gritting of roads and pavements work effectively it needs repeated treatments – especially if temperatures drop further or there is another flurry of snow.
When snow has fallen, the council's main priority is to keep the borough's main roads clear of ice so that the emergency services and public transport can keep running. Smaller residential roads are gritted afterwards.
The borough's 450 miles of pavements and footpaths must be treated by hand which is a labour intensive and time consuming process. However particular attention is always paid to the entrances of rail and tube station entrances, hospitals, OAP day centres, schools, care homes, clinics and nurseries.
The gritting of borough red routes and their adjoining pavements is managed by Transport for London - these include the A3, A24, A205, A214, A306, A3205 and A3220.
The council has a direct link to detailed Met Office radar reports so that it can get its gritters out to all parts of the borough just before snow is due to fall.
There are also 55 salt bins located around the borough, situated mainly in hilly areas where icy pavements can be particularly treacherous. These are available for members of the public to use on their own frozen paths and are refilled regularly during a cold snap.
The council has also supplied bags of grit to the borough's 200 neighbourhood watch co-ordinators so that they can clear paths used by elderly, infirm or disabled people in their area. More than 20 tonnes of grit was handed out to Wandsworth residents free of charge in November so that they could volunteer to help clear pavements in their neighbourhoods.
Transport spokesman Cllr Jonathan Cook said: "We have staff available 24/7 to deal with a whole range of emergencies, including when snow or ice is forecast. Our gritting crews will be out again this evening and well into the early hours to tackle snow and ice on the roads and pavements and if necessary we have other staff who normally work in other parts of the council who can be called upon to support these efforts.
"Residents and businesses can rest assured that we will be doing everything humanly possible to keep our roads and pavements clear of snow and ice tonight and over the course of the next few days."
Residents can find the location of their nearest salt bins by visiting www.wandsworth.gov.uk/snow and there is more information on the council's website about staying prepared for the cold spell.
The council is urging residents to seek help if they need it during the cold snap, and is asking people to keep an eye on vulnerable friends, relatives and neighbours who may need support.
The Wandsworth and Richmond Assessment point (WRAP) can help with benefits, heating, energy efficiency and more. For eligible residents WRAP may conduct a home visit to see how they can best help. If you or someone you know is worried about keeping warm this winter call WRAP on 0800 118 23 27, text 07928 394 482 or email enquiries@thinkingworks.co.uk.
The council also works with the charity Leonard Cheshire Disability to provide support such as advice and winter warmer packs in the case of a cold snap, and with Age UK to provide a handyperson service. If you need their help, you can request it from WRAP.
January 31, 2019