A new eco-project supporting aquatic life in the River Wandle is scheduled to get underway in the next few weeks.
In September the council will start removing a tidal weir in the mouth of the Wandle along with layers of contaminated sediment that have built up in the delta over the past quarter of a century.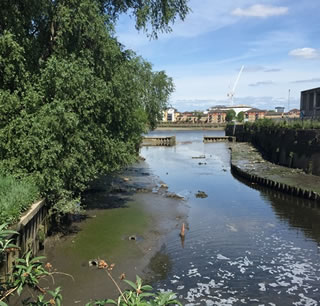 Improving water flows and removing sludge and silt to expose the gravel river bed will help restore a wildlife habitat measuring roughly a hectare in size, that has the potential to become a spawning area and nursery for young fish.
The project, which is scheduled to be completed by the end of March 2017, is being funded by Thames Water as part of its work to improve water quality, restore lost wildlife habitats and offset the impact of its Thames Tideway Tunnel. The scheme is also supported by The Environment Agency, the Marine Management Organisation and the Port of London Authority.
The council's environment spokesman Cllr Jonathan Cook said, "We are looking forward to the start of this exciting eco-project that will breathe new life into the Wandle.
"Removing the sludge and silt that has built up over the years and allowing the water to flow much more freely will hopefully restore a thriving habitat for fish and other aquatic wildlife. It will also encourage a much wider range of plant life to flourish in the river again.
"We are delighted to be working alongside Thames Water and other partners to revitalise this important aquatic eco-system."