Her fundraising to benefit young people, animals and Alzheimer's sufferers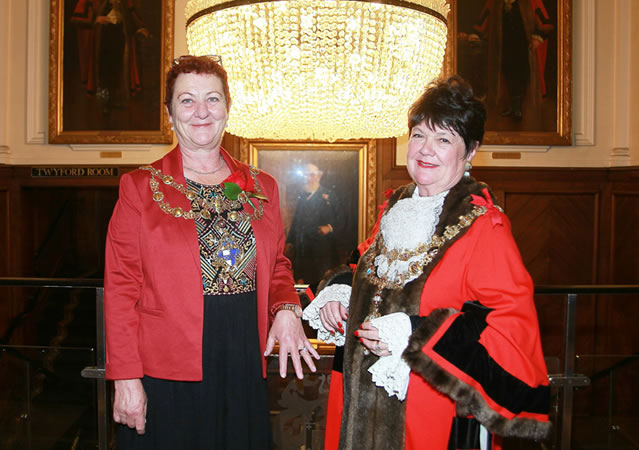 The Mayor Cllr Jane Cooper and Deputy Mayor Cllr Sue McKinney of Wandsworth
Cllr Cooper was born and bred in Yorkshire but has lived in Wandsworth for more than 40 years, has served on several council committees including planning and transportation and housing and represents the people of West Putney. She will be supported by her consort, her husband, Arnold.
This is the second time Cllr Cooper has served as Mayor of Wandsworth and she is also a two-time deputy mayor.
The charities she has chosen to support this year are:
Battersea. Cllr Cooper has a long-term relationship with the dogs' and cats' home and especially wishes to recognise the vital role it plays in housing not only strays, but also much-loved pets that can no longer be looked after by their owners – for example because they have moved into private rented accommodation where animals are not allowed.
The Alzheimer's Society. The Mayor is supporting the charity because of the vital work it carries out in the borough and because so many people in Wandsworth have been affected by this condition.
The Putney and Roehampton Boxing Club. Cllr Cooper has chosen the club because of its role helping to keep children out of trouble by supporting them and getting them involved in the wider community. The founder, Karen Horsford, was at the Mayor Making ceremony on Wednesday night and was personally thanked by the Mayor for her dedication.
Cllr Cooper said: "These three charities, taken together with all the other charities and civic groups in Wandsworth, show that by working together for the common good we can make our borough the place where people want to live - and enjoy living."
The new deputy mayor is Cllr Sue McKinney, who represents the people of Roehampton and Putney Heath. She will be supported by her children Alex and Ruth following the recent passing away of her husband, popular Roehampton vicar Jim McKinney.
Follow the Mayor of Wandsworth on twitter at @WandsworthMayor. Find out about how to invite the mayor to an event at www.wandsworth.gov.uk/mayor.
May 31, 2019