Not Wombles but a 12 month pilot scheme of dedicated enforcement team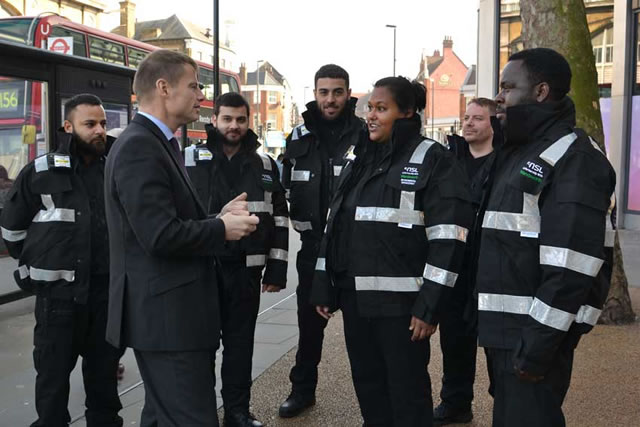 Cllr Cook meets the team
A dedicated six-person enforcement team wearing body cameras will be cracking down on litter, as a major pilot scheme gets underway.

The uniformed environmental enforcement officers will carry out daily patrols of the borough's streets and public, with offenders receiving a £80 fixed penalty notice.
Wandsworth has appointed contractors NSL to run the 12 month pilot scheme following a competitive tendering exercise. The new squad is in addition to the council's in-house team, which last year issued well over a thousand fines for flytipping and littering.
The new team will not be required to hand out a pre-ordained number of fines nor will they be operating under any kind of bonus system but they will be helping to enforce the council's zero-tolerance approach to flytipping and recovering some of the clear-up costs borne by the public purse.
The council spends upwards of £4m a year to keep the borough's streets clean and some of this amount relates directly to the cost of picking up waste that people have dropped or dumped either deliberately or through carelessness.



The team will be using video technology to gather evidence

As well as employing more inspectors, the council is also using small portable CCTV cameras at various hotspots to gather evidence for prosecutions.

The new enforcement team will focus largely on litter, but the existing in-house team is also targeting businesses that dump their waste on street corners rather than having a contract with a proper commercial waste removal company. And they will crack down on residents that leave their refuse sacks out on the public highway or use the cover of dark to dump items like mattresses or fridges on the street.
They will also look to collar unlicensed waste removal operators who drive around the streets looking for large items of waste to collect - and having taken money to dispose of it properly - simply drive around the corner and dump it.
The council's environment spokesman Cllr Jonathan Cook said: "The vast majority of residents take great pride in their local communities, but we want to send out a really strong message to the irresponsible and inconsiderate minority that think they can get away with spoiling our borough.
"I'm confident NSL will deliver a programme that will not only provide an effective deterrent but also encourage offenders to recognise and address the error of their ways."
The award of the new environmental enforcement programme follows NSL's appointment early last year to deliver all on- and off-street enforcement services for the borough as well as taking on responsibility for the suspensions service and management of all of the council's fixed and mobile CCTV resources.

Phil Pughe, NSL's Neighbourhoods Account Director, said: "Littering blights many busy and densely populated urban areas and the vast majority of responsible residents and local businesses are fully supportive of any programme that will address the problem and keep their local areas clean and safe.

"Our experience in helping to reduce the incidence of littering and encouraging behavioural change among habitual offenders has delivered very positive outcomes for other authorities and we're delighted to now be applying this experience in Wandsworth."
*The council has made it much easier for people to report flytips and other problems via its Report It app.
To download the app, search for 'Wandsworth Report It' on the Apple, Android or Windows app store, or access it via the council's website.
You can also report flytips online at www.wandsworth.gov.uk/flytipping. If you have any information that could help prosecute offenders email flytipwitness@wandsworth.gov.uk.
February 17, 2017