Survey says Wandsworth is favourite place to live in England and Wales
The new study by the banking group found that the borough is hugely popular with people aged 25 to 35 because of its great transport links, close proximity to the West End and the City, its many parks and open spaces and its vibrant mix of Victorian and Edwardian properties as well as its new riverside flats and conversions. Neighbouring Fulham, Battersea and Wimbledon are the next most popular areas fo ryoung urbanites, with Putney coming 12th in the statistics.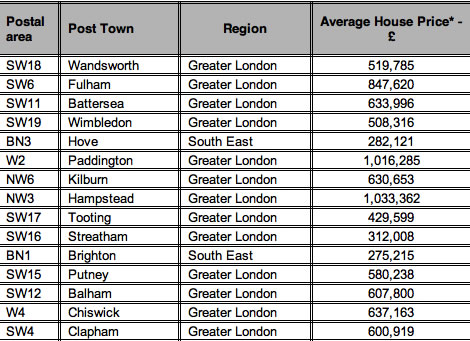 Top 15 postcodes with most property purchasers who are young professionals
Source: Land Registry. * 12 months to 02/13

Nitesh Patel, housing economist at Lloyds TSB, said: "Aspiring young professionals are typically well-qualified and in well-paid jobs. They tend to live in areas that are not far from the city centre, but are also places where they can enjoy open green space and a café style environment."
As well as its great location, excellent transport links and fine open spaces, Wandsworth also boasts some of the best schools in the country – an important draw for young parents or those planning to start a family.
According to education standards watchdog Ofsted, 92 per cent of local schools are good or outstanding. This places Wandsworth in the top eight of high performing local authorities in the country. In comparison on average only 74 per cent of schools in other parts of the country and 80 per cent in London are judged good or outstanding by Ofsted inspectors.
In addition the borough has charged the country's lowest average council tax bills for the past 20 years. This year's Band D bill in Wandsworth is £686 compared to a London average of more than £1,300.
A study of bills over the past 20 years has shown that Wandsworth Band D payers are £10,054 better off over that period than taxpayers in neighbouring Merton, £11,741 better off than Kingston residents and £12,108 better off than their counterparts in Richmond.
The borough also boasts some of the best sports and leisure facilities in London, with its high quality leisure centres boasting the latest gym and fitness equipment and four indoor swimming pools, as well as Europe's largest outdoor fresh water swimming pool at the Tooting Bec Lido.
The borough also has the lowest crime levels in inner London.
Council leader Ravi Govindia said: "Wandsworth is a great place to live and the council is absolutely determined to maintain that reputation. Improving the kind of quality of life measures that are important to ordinary people is a real priority for this town hall and one we keep in constant focus."

May 22, 2013