Only 20.7% achieved when target of 50% is set for 2020
A recent report on recycling levels across London has shown a relatively poor ranking for Wandsworth Council with the fourth lowest level.
Based on municipal waste data derived from WasteDataFlow the report shows the total household waste recycling, composting and reuse rate for London local authorities from April 2014 to March 2015.
The local authorities are listed in overall performance order, only Bexley manages to recycle above the target 50%. Four of the thirty two London boroughs achieve above the national domestic recycling average of 44.9%. The top five boroughs are:

1. Bexley London Borough Council - 54.00%
2. Bromley London Borough Council - 48.00%
3. Royal Borough of Kingston upon Thames - 45.70%
4. Harrow London Borough Council - 45.10%
5. Hillingdon London Borough Council - 43.80%

The worst performing boroughs are:
28. Hammersmith and Fulham London Borough Council – 20.70%
29. Wandsworth London Borough Council – 20.70%
30. Westminster City Council - 19.10%
31. Newham London Borough Council - 17.20%
32. Lewisham London Borough Council - 17.10%

With a simple one bag recycling system in the borough it is surprising that more is not recycled by residents. In 2011 Cllr Cook told this website: "In Wandsworth you won't have to put up with a rainbow of different coloured bins - there's just one orange sack or orange-lidded bin for everything - and we pick up rubbish and recycling weekly, so it won't pile up in your garden."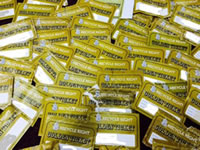 As part of a way to encourage resident to recycle, in 2015 and 2016 the Council has been part of the Golden Ticket scheme run by Western Riverside Waste Authority (WRWA) - through which residents could win £250 to £500 if their recycling bag is chosen and contains one of the Golden Tickets.

The council and WRWA have been asked to comment.
November 30, 2016