The London Mummy checks out local evening classes


Alex rolling his roulade – check out the pinky!

On Tuesday evening we had a wonderful evening with Fran and her team at Wyld Cookery School in Wandsworth. We were invited to their 'Hassle Free Dinner Parties' evening which was the final installment of the 4 week Wyld Cookery Club Evening Course, that also covers Asian Adventures, 30 Minute Meals and One Pot Wonders.

We were greeted with a glass of top plonk (or bottled beer much to my husbands delight!) and given the outline and menu for the evening to have a look at before we got cracking.
We were introduced to the rest of the group who despite having spent the last 3 weeks together were friendly and inclusive. There was a mix of ages and both men and women.
Fran, who started up the school 2 years ago, gave a brief introduction on the order of the evening. Starting with a demonstration, then time to cook yourself, and finishing off with a lovely sit down meal of the goodies you have just cooked.
Fran is a cool chick who made the evening fun and VERY informative. She made the demo's lively and her patience with all the questions and inability to follow recipe's was pretty impressive!
After the wonderful demo, we cracked on and had a go at cooking Chicken With Wild Mushrooms.
Check out the Hazelnut and Meringue cake
Fran was so generous with her tips and I felt of wave of inspiration after having felt so stale in the kitchen for the last few (6) years.
Chop the stalks off your beans in the bag.
Use 'banana shaped' shallots rather than round ones – much easier to chop.
Boil 'round shallots' in the skin for a few minutes so the whole shallot plops out of the skin.
Whack in a whole crushed garlic (without peeling) to your butter to make garlic butter.
Use grease proof paper rather than tin-foil to cook meat. (I did wonder why my sausages always stuck to the foil!)
Use portobello mushrooms or an alternative but never the cheap white closed cup mushrooms that have no flavour.
The gel stock pots are a game changer.
Soak your dried wild mushrooms for 20 minutes and then, to avoid getting gritty bits in your dish, either strain the liquid through a muslin or discard the last inch of juice - this is especially important when cooking a risotto.
Always fry your chicken thigh skin down to crisp it up and you don't need fat – there is enough on the skin.
Icing sugar is the best way to sweeten cream, not caster sugar.

Oh I could go on! You may know a lot of this but I have never been to a cooking school and now have a bit of a bug to know more.
I reckon the only way to learn properly is by doing, and I highly recommend the friendly relaxed and informative way like the Wyld Cookery School conducts their courses. They also only use first class ingredients and you also get to take supper home for the next night so it is super duper bang for your buck.
My highlight was the supper at the end and also learning to make hollandaise sauce! Who would have thought!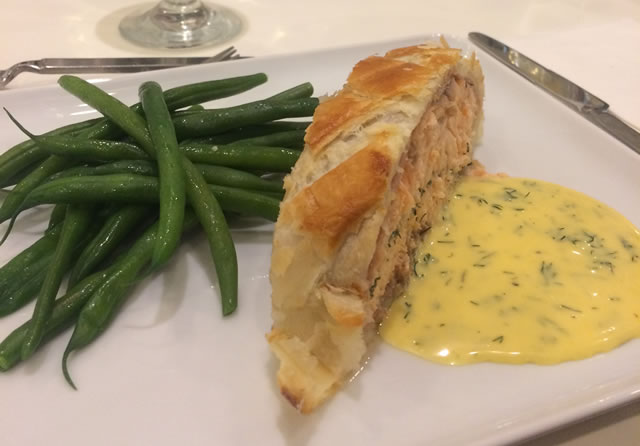 The next evening course starts on March 21st so book yourself in or give it to someone close to you as a gift. What a great Valentine's Day present and you will reap the rewards!
There are also some great courses for youngsters.
Wyld Seasonaire - A Gap Year Course to become a chalet boy/girl.
A no-nonsense, intensive two-week cookery course to give you everything you need to make the most of your Ski Job.
Wyld Essentials Cookery Course - a course to get students culinary ready before they go their own way.
This is the ideal cookery course for anyone about to go to college, university, leaving halls of residence or simply leaving home and left to fend for themselves. The Wyld Essentials Cookery Course is a fun and hand's on programme which will show you how to flip a dinner party on a budget, create a killer roast and smash a lasagna. Boiled, roasted, baked or steamed like everything they do, they cut out the nonsense and get into the detail that will leave you armed with a solid menu repertoire and confidence to tackle most recipes you put your hand to.
They are approved D of E provider (AAP) for the who need to complete their Duke of Edinburgh gold award (residential aspect)
The course runs Monday to Friday with a maximum of 14 students. They enjoy lunch together every day, with breakfast on Fridays and on their first Thursday night they host a 'Supper Party' for their invited guests at the school. The hours are Monday 9.30am – 4.30pm and Tuesday to Friday have a 9am start!

Lucinda Robins
www.thelondonmummy.com



February 14, 2017