Garages And Sheds Make Way For Social Housing
---
Two three bedroom houses to be built on Limpsfield Avenue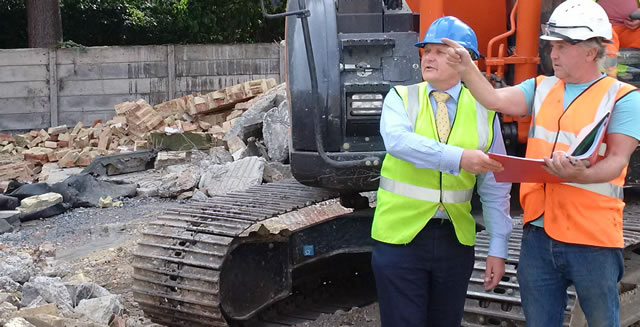 Cllr Ellis visiting the site last month
New council homes are on the way in Wandsworth's West Hill ward as part of a long-running programme to make more efficient use of local authority land.

Six garages and nine storage sheds on Limpsfield Avenue, off Inner Park Road, will be demolished and replaced with two semi-detached council houses for social renting.

The two-storey houses will be family sized with three bedrooms, while high-efficiency boilers and photovoltaic panels will reduce energy bills.

Nearby vacant garage space is being used to replace what's being demolished, and cycle storage is also being provided as part of the development, along with adjoining pavement renovation work.

Demolition work is under way by HA Construction, and the building of the new homes is expected to complete from the middle of next year.

Cllr Paul Ellis, Cabinet Member for Housing, said, "For more than a decade now whilst others have been talking about the need for new affordable homes, we in Wandsworth have been getting on with building them, whether for home ownership or, as in this particular case, for rent, through our Hidden Homes initiative.

"This development is another example of our long-standing commitment to building new homes through making more efficient use of land on the borough's housing estates."

Recent data shows there was a total of 501 affordable homes built in Wandsworth in 2015/16, more than double than in the previous year, and with construction work on 1,742 more expected to be complete within the next few years.

October 7, 2016