Over 30% of residents now cycle at least once a month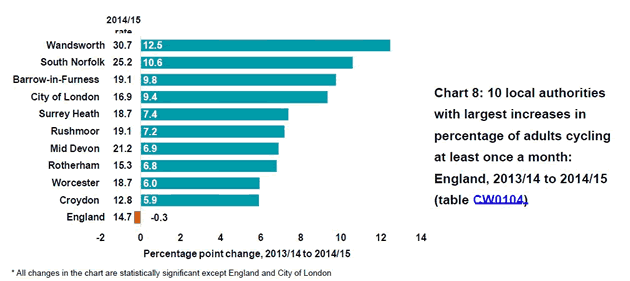 Areas with the highest increase in cycling rates

Wandsworth borough saw the highest increase in cycling in the whole of England last year according to new figures published by the Department for Transport (DfT).
The proportion of local people who cycle at least once a month went from 18.2 per cent in 2013/14, to 30.7 per cent in 2014/15, a rise of 12.5 percentage points.
Only two other parts of London made it into the top ten for year-on-year increases – the City of London with a 9.8 per cent rise and Croydon with an increase of 5.9 per cent.
Wandsworth's sharp rise brings its overall cycling rate up to fifth highest in the country, behind the university towns of Cambridge (58%), Oxford (43.2%) and York (34.2%), as well as neighbouring Richmond (33.1%).
According to the DfT's report, the proportion of regular cyclists in Wandsworth is now double the average for England which stands at 14.7 per cent.
The country-wide statistics also show Wandsworth residents are keen walkers, with the percentage of adults walking at least five times a week standing at 64.2 per cent, the ninth highest in England.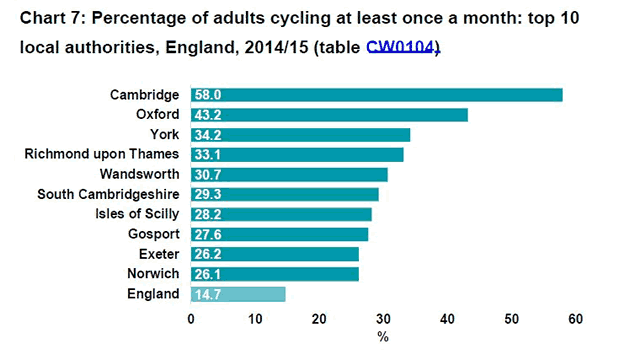 Council transport spokesman Jonathan Cook said, "These figures are very encouraging and seem to tally with the latest census data and TfL travel surveys which suggest more and more Wandsworth residents are embracing pedal power.
"Major initiatives like extending the cycle hire scheme into our borough and upgrading our cycle route network have made a real difference. Organisations like the Wandsworth Cycling Campaign, local schools and local businesses have also played a key role and are doing more than ever to encourage sustainable travel."

August 4, 2016