Grouse and Scottish Girolles at Enoteca Turi
The 12th of August marks the beginning of one of the most cherished British culinary traditions – the game season - the grouse being the first and the noblest.
This will be followed by partridge, pheasant, venison, mallard and hare as soon they are available.
The other great ingredient coming into season is the wild mushroom and the Scottish girolles are the first.
Head chef Michele Blasi has taken inspiration from the northern Italian region of Friuli Venezia Giulia and produced a wonderful dish: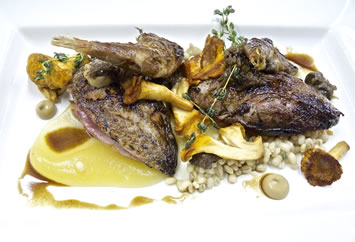 Roast grouse, confit legs with barley and gizzard orzotto, Scottish girolles and apple sauce

Enoteca Turi

Promotional feature

August 18, 2015