A local hub for communicating the attractions of renewable energy
From the warm flames of a log burning stove which produces heat and hot water, to the high tech Heat Bank which resembles a Dalek, Green Square has a wide range of renewable technologies on display to tempt homeowners.
At the opening of the store on Kingston Road in Raynes Park, pupils from Raynes Park High school gave a short talk on why we should all be concerned about energy security and why renewable energy was the future. Their presentation was clear and straightforward – and an inspiration to all the adults present.
Ark Putney Academy pupil, 12 year old Stella Postigo from Wimbledon, was presented with her prize of an iPad and £250 for her school as the winner of Green Square's 'Design a house of the future'.

Stella said: "When I saw the competition I really wanted to enter as I think people should be more environmentally friendly. I spent nearly all my half term holiday researching ideas on the internet and making my model. I never thought I would win though so was really shocked when I found out that I had won. I hadn't even told my school that I had entered so they were really happy too."
With increasing fuel bills, homeowners may be attracted by the Government's Renewable Heat Incentive Scheme which will offer fixed payments for heat generated in a similar way to the Feed in Tariff for solar electricity.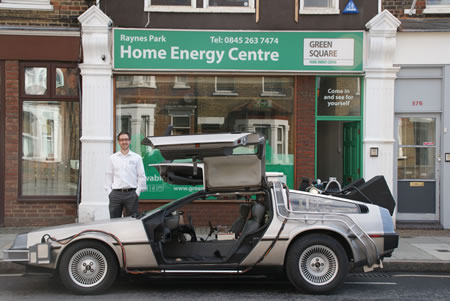 Richard Hiblen, MD of Green Square with the Delorean from Back to the Future for the opening of Green Square
Richard Hiblen, Director of Green Square, commented: "We are delighted to be opening the UK's first dedicated renewable energy store. Our goal is to show every homeowner how to make their home sustainable for the future whilst providing thousands of pounds in extra income."
He continued:"Being eco-friendly is so important to children it was only natural that as part of our launch we offered them something that they too could get involved with. Green Square has everything a homeowner needs under one roof and we were looking for a winner who had the same thought processes to us and combined the use of technologies with natural resources. The level of entries to the competition exceeded our expectations, in fact we were blown away by the quality and the understanding that children have about energy saving. Stella was a deserving winner and is a role model for the future generations."

Hopefully Green Square will follow the inspiration of the local schoolchildren and be a local hub for communicating the attractions of renewable energy.
Polly Amos & Laura Polglase

Laura and Polly formed Eco-Renovate to offer advice to homeowners who want to renovate their homes sustainably. Their direct experience in their own homes means that they understand the need to balance this with practical and creative solutions. They are also training as Green Deal Assessors.
www.eco-renovate.com


November 6, 2016