SW London Coach Took Tennis To Uganda
---
Believing the discipline & skills on court creates a well rounded person off court

Company founder Henry Lamb recently travelled to Uganda to promote his philosophy alongside his mothers charity CRESS UK.

CRESS UK was founded back in 2010 and is a Christian Charity which seeks to bring relief and education to the people of South Sudan so that they can help themselves to emerge from poverty to a sustainable living standard. CRESS works under the invitation and guidance of the ECS (Episcopal Church of Sudan). As a charity it is strongly relationship based so that key individuals in South Sudan are supported financially and physically to enable them to be effective in their work. CRESS educates over 80 children and has just began a sustainable farming project.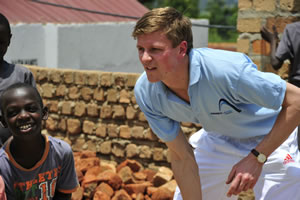 Henry ran a series of tennis coaching clinics at local schools and it is from similar trips abroad, as well as tennis tuition in London that Lamb built his vision for his company. Henry is deligted to be launching Henry Lamb Tennis at a time when tennis is experiencing heightened popularity in London, and is proving to be an appealing sport for children as they look up to the stars of today such as Murray and Djokovic.

"My recent visit to teach tennis to a school in Uganda re-affirmed for me that no matter whether you are a child in an impoverished African community or a prosperous suburb in south-west London, tennis can teach key life skills if it is taught in an instructive and fun way. It is not just about becoming a better player on the court, but rather about providing an opportunity to learn in a disciplined environment and having the chance to walk off court a better and more rounded person.
| | | |
| --- | --- | --- |
| | | |




Promotional article

March 3, 2013