South London Jewish Primary School renames to Mosaic Jewish Primary School
South London's first Jewish primary school will be called Mosaic Jewish Primary School (MJSP). The new name will also be reflected in the logo, uniform and website. This announcement comes in the week when local authorities across South London will offer places to the first cohort of Reception children who will join the school when it opens in Wimbledon in September 2013.
The new name, logo and uniform have all been developed in conjunction with an active group of prospective parents and supporters. Their children were involved in selecting their new school uniform, which many of them were able to 'model' in a recent photo shoot.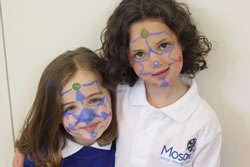 Mosaic Jewish Primary School is founded on Jewish values and will be strengthened by the supportive relationships between teachers, children, families and the wider community.
The name Mosaic encompasses many aspects of the school's Jewish and inclusive ethos and aims to reflect the core principles of respect, inspiration and excellence.

The logo is a circle of children holding hands demonstrating the inclusive and supportive ethos of the school and illustrating a commitment to living Jewish values and celebrating diversity across all communities.
Its temporary site is on the corner of Parkside and Queensmere Road at Wimbledon and District Synagogue.

Kate Baum, Head Teacher Designate MJPS comments:
"At transformative moments in the Torah, the names of important figures in Jewish History have been changed to mark a major event in their life journey. Abram became Abraham, Sarai's name was changed to Sarah, Jacob was renamed Israel. SLJPS has now reached such a special moment.

"We are very excited to share our new name. Each stone in a mosaic is crucial to the whole. If any stone is missing, the whole is incomplete and each stone is bonded with its neighbour. This is how we feel about the pupils and families in our school."

April 19, 2013