Roehampton Sky Filled With Balloons
---
As Mosaic School celebrates official opening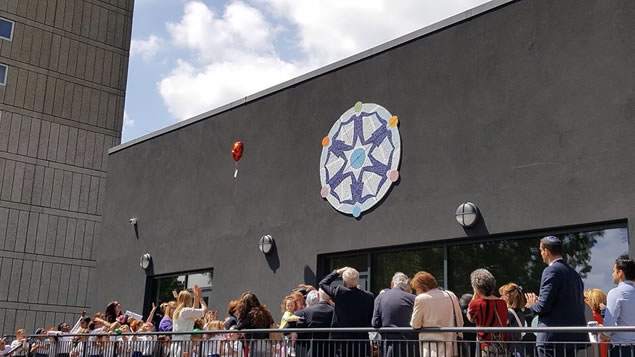 Mosaic Jewish Primary School, has celebrated the official opening of its new school building in Roehampton in a special ceremony including a balloon race. South London's only Jewish primary school held its formal opening ceremony in the company of newly elected Mayor of Wandsworth Cllr Richard Field, Zac Goldsmith MP, Wandsworth councilors - Cathy Tracey MBE, Steffi Sutters and Sue McKinney, representatives of the DfE, members of the local and wider communities, school governors and staff, parents and children.



Rabbi Jason Rosner, Kate Baum head teacher, Mayor Cllr Richard Field & Judy Thwaites MJPS Associate Governor

The free school, which opened in temporary accommodation in September 2013 with just one class of 4 year olds has already achieved Outstanding ratings from Ofsted and the Jewish community's school inspectorate (November 2015) It has now grown to four classes and is housed in a state-of-the-art new school building. The newly constructed 14-classroom school also includes a dedicated dance studio, design, technology and art room, an ecology garden, a kosher kitchen, a community room with a coffee shop and the very latest in a wide range of IT and other teaching resources.
The opening ceremony marks the culmination of many years of work undertaken by a unique group of local residents, representing a wide range of social and religious backgrounds.

In her opening address Head Teacher Kate Baum likened the efforts of her colleagues to the biblical Exodus. "We have reached the summit of Mount Sinai after many years in the wilderness," she enthused. "We have taken on a significant responsibility to deliver an outstanding education with an ethos and environment that will enable the children of Mosaic Jewish Primary School to be inspired in their learning, excel in everything they do and grow to understand and respect the practices and beliefs of anyone they meet."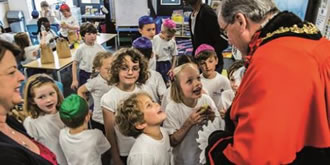 Mosaic pupils engage with Mayor Cllr Richard Field
Chair of Governors, Shirley Lee commented:
"The achievements of a dedicated group from across the spectrum of South London life has culminated in the opening of an outstanding faith school for our times. Our commitment to a truly cross communal school for all members of the Roehampton community and the South London Jewish community is reflected clearly by the children, families and supporters of our school gathered here today."
Guests at the ceremony were treated to a selection of dancing and singing acts from the children as well as a film made especially for the occasion giving visitors a child-lead guided tour of the new school. The final highlight was the presentation of a two metre high mosaic of the school's logo, funded by a charitable donation, which has been erected on the wall of the School's new hall. Representatives from the student body, staff, governors and local community released colourful balloons labeled with dreams and wishes for the future of this unique and groundbreaking school. The children are hoping that their balloons will be found and returned with exciting messages from across the UK.

June 7, 2016