Families can now enjoy a round of mini-golf right in the heart of Wandsworth Park


The new 12 hole "Putt in the Park" course, which is next to the park's café, was opened on Friday offering parents and children a great new leisure activity in this popular riverside space.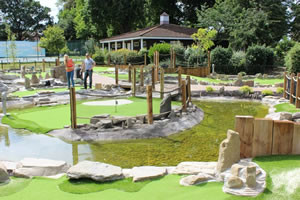 The dozen putting greens, some with their own mini-bunkers and water features, have been laid out in a newly-landscaped area that was previously occupied by a disused bowling green.
The bowling green was closed in 2004 when facilities in nearby King George's Park were refurbished and upgraded. The site, which has lain unused ever since, has now been brought back into use by the café's proprietor after he obtained the council's permission to open the new facility.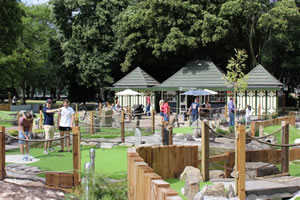 The course is now open every day from 10am to dusk with playing charges from £5. Its website states: "Putt in The Park is a new putting course and clubhouse cafe set in the beautiful and historic surroundings next to the Thames in Wandsworth Park, Putney.
"This exciting and challenging putting course has been specially designed to suit all abilities from the novice to the experienced golfer. It will be great fun for all ages so the whole family can play.
"So whether you want to get the family out at the weekend and have a coffee and cake afterwards, organise an office lunchtime tournament and bite to eat or if you just want something to do with the kids - just turn up and play!"
As part of the negotiations that led to the course being given permission to operate, the cafe's proprietor has also agreed to reopen and maintain the toilets in the adjacent former clubhouse and these will now be available for use by all park visitors at no additional cost to taxpayers.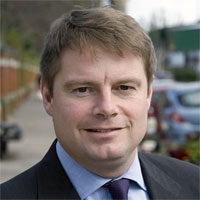 The council's leisure spokesman Cllr Jonathan Cook said:
"This is a great new attraction for people visiting the park and is bound to prove hugely popular. Mini golf is a big hit with people of all ages, especially families with young children. As well as providing residents with an enjoyable new reason to visit the park, this is also good news for council taxpayers. It will generate additional income for the town hall while the park will also benefit from new toilet facilities that are being provided at no cost to the public purse."


August 7, 2013